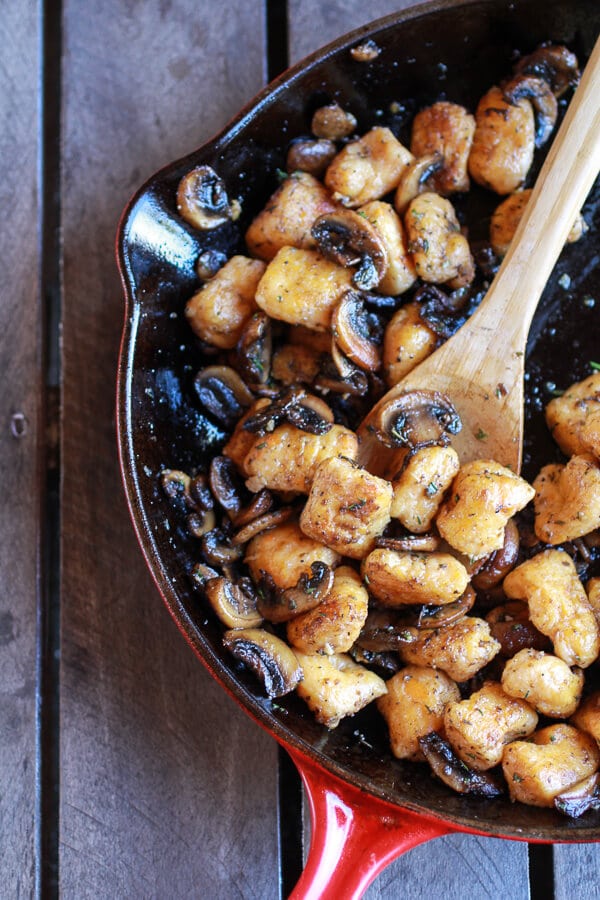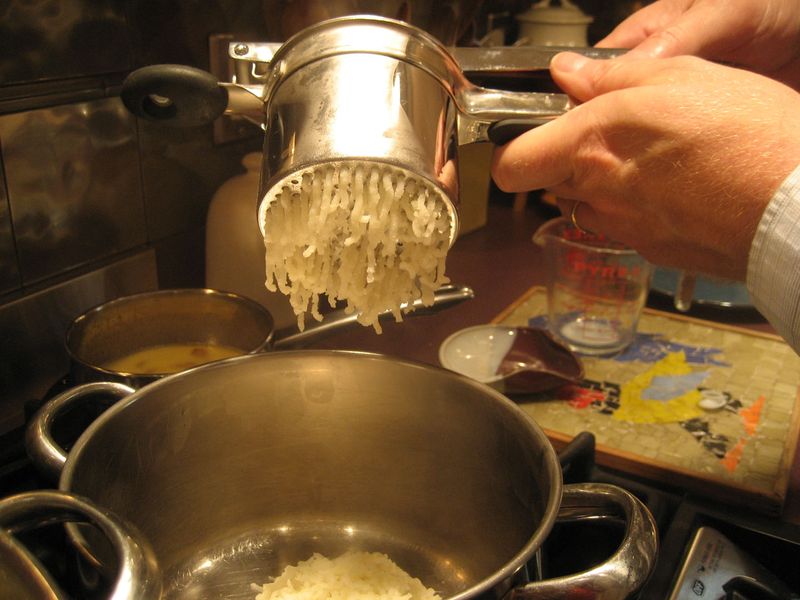 I was talking with someone who was contemplating his birthday and quite the plethora of candles. He wanted an idea for a comforting meal. I suggested gnocchi (pronounced knee-oh-kee). Which is a potato dumpling/pasta depending on who you ask. I mean what is more comforting than mashed potatoes or pasta and in this dish we have them together! As my marine friends say "Outstanding!"
We will make the potato gnocchi (there are many other types) & serve with mushrooms in a sage brown butter as we are looking for maximum rib stickiness. The one equipment thing that we will need is a potato ricer or a food mill. Both of these devices will basically force the hot potato through holes so the potato is mashed in a very uniform way.
The other thing that matters is the type of potato. We are looking for a very high starch potato so the gnocchi are light & airy. The potato we can use is the russet/Idaho potato. Do not use new/red bliss potato & Yukon gold type potatoes as they have low & medium starch respectively.
Have everything ready to go BEFORE you start. The texture of your gnocchi will depend on it. The gnocchi can be also be frozen like all pasta but cook from frozen in very small batches in a big pan of boiling water.
Ok. let's get started
Ingredients:
Potato gnocchi with a mushrooms & sage brown butter
2 pounds russet, Kennebec or other high starch potatoes & get the medium sized potatoes so they cook faster (washed but not peeled)
3 farm eggs (yolks only)
1 & ½ – 2 cups all purpose flour
Salt
1 pound shiitake or any other mushroom you like sliced
Coarsely ground black pepper
Crushed red pepper (optional)
4-6 sage leaves
1-pound unsalted European style butter (Kerry gold or Plugra but honestly any fresh butter will do)
A very large pot with simmering salted water
½ teaspoon fresh lemon zest and the juice of a ¼ lemon
Boil the potatoes whole with skin on so they don't get water logged. About 20 min or so. Peel while there still hot (do not wait). I keep a bowl of cold water near by and keep dipping my fingers and use a knife.
Cut the peeled potatoes in ½ and 'rice' them by passing them trough a ricer or a food mill.
Add yolks and flour (as much as needed so the dough comes together & knead until the dough is smooth without being sticky). What is important is that you use a light touch and do not over work the dough.
On a well flowered surface divide the dough into ¼ pound pieces.
The inside of the dough should look dry and airy not wet or gummy.
Roll out the dough pieces into ½ inch thick 'rope' and cut into ¾ inch pieces.
Once you have them all rolled out and cut give them a good dusting of flour and roll the gnocchi lightly to keep them from sticking.
Bring the simmering water to a hard boil and add the gnocchi in batches to prevent over crowding and the gnocchi from sticking to each other.
When the gnocchi float, they are done (do not overcook)
Fish them out with an oriental strainer or a slotted spoon. And set aside on an oiled cookie sheet/sheet pan.
Once that is done melt the butter in a nonstick pan over medium heat until foaming. Keep an eye on the butter until it starts to brown and starts to smell like hazelnuts. Add the sage and cook lightly. Now add the cooked gnocchi and raise the heat to medium high and keep shaking the pan so the gnocchi can be toasted on all sides. When you have reached this point add all of the sliced mushrooms and spread evenly in the pan. Let them cook until the mushrooms take on a light brown color. Once that happens season everything with salt & ground pepper. Add the crushed red pepper along with the lemon zest and lemon juice at this point. Toss lightly to coat everything in the brown butter and serve immediately with freshly grated parmesan cheese.