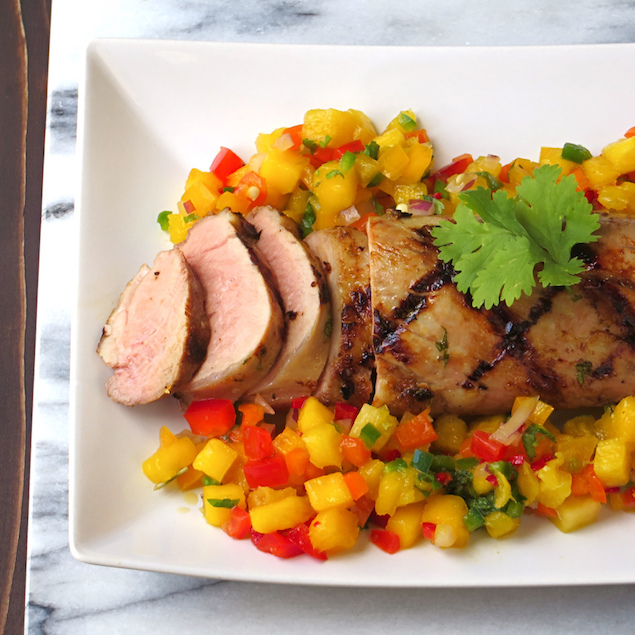 We are just getting in to the Texas summer, so it's hot, but it's not miserable, yet. So, we're contemplating a light pork tenderloin dish that has a little spice, sweetness, as well as some refreshing acidity. It's perfect for a picnic!
The grilled Pork Tenderloin we're preparing is served with a fresh pineapple and serrano salsa. Tenderloin is the smaller, more tender, 'filet mignon' of the pig. It's very lean, so we recommend serving it medium rare, but no more than medium, to preserve the flavour and juiciness of the meat. Contrary to popular belief, pork is safe to eat rare (even raw) if you 'certify' the meat by freezing for a minimum of 15 days, as this destroys the cyst that causes trichinosis. 1
Ingredients:
Grilled Pork Tenderloin with a fresh pineapple and serrano salsa
4 "certified" Pork tenderloins (trimmed of silver skin and sinew)
2 Dried guajillo chilies, lightly toasted, stemmed, and ground to a fine powder (a coffee mill is great for this, or you can use a mortar and pestle)
1 gold pineapple, peeled and cored, and cut into ½ inch cubes
3 green onion stalks, thinly sliced
¼ cup of chopped cilantro
1-2 large serrano peppers stemmed, seeded, and thinly sliced
2 red bell peppers, seeded, and finely diced
Juice of 1 fresh lime (~ 1 tablespoon)
1 tablespoon brown sugar
¼ Vegetable oil
1/3 cup fruity olive oil
Salt & pepper to taste
In a bowl, add the homemade chili powder with the vegetable oil, and mix well.
Add the pork tenderloins and thoroughly coat them in the ground chili & vegetable oil mixture, cover, and marinate for at least 6 hours in the refrigerator.
In a separate bowl, add the pineapple, green onions, cilantro, serrano peppers (to taste), and red bell peppers and mix together. Add the fresh lime juice, olive oil, and salt and pepper to taste, and set aside.
On a medium hot grill, quickly sear the tenderloins on all sides to grill mark, then cook to your preferred temperature. Pull the tenderloins off of the grill and set aside to "rest" for at least 5 minutes to allow the juices to redistribute into the meat. Serve this dish "family style" on a platter, with the tenderloins in the center of a bed of pineapple salsa, along with a side dish of your choosing. Scalloped potatoes pair nicely with this dish, or keep it light and serve "as is".