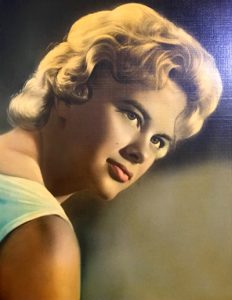 Priscilla Osborne Hellums, our beloved wife, mother and grandma became our Guardian Angel on Friday, May 26, 2017 at the age of 72. Although she left us unexpectedly, we find great comfort in knowing she di

d not suffer. Just as she lived her life, she left this world without burdening anyone.
Her loving legacy includes her husband of 54 years, Terry Hellums; daughter, Becky Hendricks with husband, Mark, and grandson Alex, of Bellville; son, Mark Hellums with wife, Michelle, and granddaughter Taylor, of Cypress; and daughter Dawn Wibben with husband, Greg, granddaughter, Isabelle, and grandson Elias, of Sugar Land. She is also survived by her sisters: Jo Ellen Young, Dixie Grant and Carol Martin; and brothers: David Osborne, Skip Casteel and Wayne Casteel. She was preceded in death by her parents and youngest brother, Ralph Casteel.
Pris was born on Feb. 9, 1945 in Lockhart, Texas, to Dorothy Casteel and Clint Osborne. She was raised in Lockhart but also lived in Corpus Christi and Spain. She graduated from Lockhart High School in 1963 and married her high school sweetheart. They moved to Austin where they raised their three beautiful children. Her favorite times during these years were spent in the stands cheering on her children — forever their number one fan. First and foremost a full-time mom, she also juggled a career retiring from Health and Human Services in 2004.
Pris was a doting mother and grandmother and the matriarch of the family. Her life revolved around spending time with her family. When she came to visit, it was understood that everyone would gather together. She loved us unconditionally and nothing was ever too much to ask. The sun rose and set around her children and grandchildren. She loved getting down on the floor and playing with her grandkids. Rocking and taking naps with her grandbabies were cherished moments. She was humble and liked to let her family shine as she remained a constant support in the background. Her testament is the strong family values she instilled in her kids. Pris enjoyed being silly, loved to laugh and was known for getting a good chuckle from something funny one of her kids would do.
Pris was quiet but always engaged. She had a strong drive for the world to be fair and equal. Those in her life understood and appreciated her selflessness. Her empathy for both people and animals led many of her daily actions. Empathy and fairness were never more clearly on display than when it came to her pets. Pris never met a dog that wasn't in need of a drink of water. Every time she went out to eat, she saved each dog a bite.
Beyond her family and pets, Pris had many other interests. Music was an integral part of her life, and Elvis was her favorite. She always made time for trips to the beach, where she delighted in walking her dogs and listening to the waves. She looked forward to her puzzles in the daily paper. Social media became an important part of her life and enabled her to re-connect with many friends and family. She frequently sent personal, encouraging messages to those she loved. She also enjoyed shopping and fashion – and her granddaughters were just coming of age to really enjoy that with her. Exercising and eating healthy were important to her however, her sweet tooth required just 'one bite of dessert' after every meal.
These are just a few of the reasons we love our mom so much. The love she showed will remain ever-present and will help guide us as we try to move forward without her.
Come celebrate her life with us on Tuesday, May 30 from 6 – 8 p.m. at McCurdy Funeral Home in Lockhart. Services are Wednesday at 11 a.m. at the same location. Following the service, we will lay our beautiful mother to rest at the Bunton Cemetery in Dale, Texas. Because she was a champion for the welfare of all dogs and pets, donations in her memory can be made to the Lockhart Animal Shelter or for heart research to the American Heart Association.
Arrangements under the care and guidance of McCurdy Funeral Home, 105 E. Pecan, Lockhart, Texas.