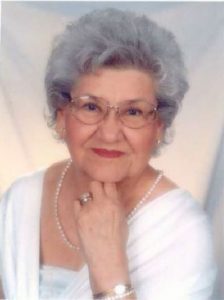 Rachael Sordia Tamayo, a lifelong resident of Lockhart, Texas, passed away gently and serenely on Thursday, July 3,

2014, surrounded by her family in Round Rock, Texas.  She was born in Lockhart to Santiago and Mathilde Sordia on March 9, 1920, and enjoyed 94 years full of zest for life, happiness and laughter. She loved people and loved living life everyday in the company of friends and family. Her answer was always "yes," when offered an adventure of any kind.
Rachael is preceded in death by her parents; husband, Joseph Albert Tamayo; only sister, Tomasa Sordia Tamayo; five brothers: Richard, Ralph, and Celestino "Sonny" Sordia; Rudolph and Joe Alcantar; and grandson, Byron Menn.
Rachael is survived by three daughters, Sylvia Irene Menn (Stephen) Fellows, of Woodland, Wash., Elizabeth Faith Rogers, of Round Rock, and Carole Marie Tamayo, of Dallas; two sons, Michael Joseph Tamayo, of Lockhart, and Gregory Mark (Karen) Tamayo, of  Marietta, Ga.; seven grandsons, Curtis Stephen (Gabrielle) Menn, Matthew Gregory (Denisa) Menn, Kyle Douglas (Deanna) Rogers, Joshua David Tamayo, Aaron Michael (Kelly) Tamayo, Benjamin Joseph Tamayo, Andrew Thomas Tamayo; and ten great-grandchildren: Dominique, Elsa and Tyler Menn, Raistlin Rothery, Sylus and Adelia Menn, Donaca, Lilly, and Connor Tamayo and Elijah Joseph Rogers; two great-great-grandchildren; brother, Edward Alcantar and wife, Sylvia; and many beloved nieces, nephews, and friends.
The immediate family welcomes all family and friends to join them for a luncheon reception celebrating Rachael's life to be held at the Lions Club in Lockhart at 11 a.m. on Saturday, July 26.