RAMBLIN' MAN: Rollfast Ramblers bassist, wife, bring classic Western fashion to downtown Lockhart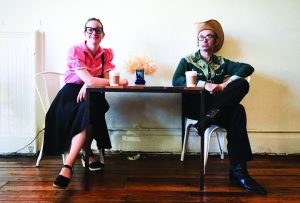 Jen and Ben Sparks own Rollfast Ranchwear on 107 E. San Antonio Street, selling clothes that look much like these outfits. For this couple, the classic Western attire represents more of a daily wardrobe choice than an occasional costuming opportunity. Laurel Coyle / Post-Register
By Miles Smith
LPR Editor
Clad in pearl snaps and denim, the classic, retro style of Ben and Jen Sparks is certain to leave a lasting impression when you meet the couple at their shop in downtown Lockhart.
Rollfast Ranchwear (the name being a play on the Rollfast Ramblers, Ben's band) has been open since April 2017 and offers an array of western shirts, blue jeans, simple t-shirts, and other attire that Ben says are in the "hot rod" style.
"It used to be known as rockabilly, but they really don't use that word anymore," Ben noted.
The shop is one of the many downtown establishments that often opens its doors for First Friday in Lockhart, where owners keep their doors open past 5 to allow people to come in, mingle, listen to music and see what the shops are all about. Rollfast has often gotten into the act by hosting small live music sets in its shop at 107 E. San Antonio St, where it's open daily from 11 a.m.-7 p.m. and noon-6 p.m. on Sundays.
The road to Lockhart was a winding one for Ben and Jen, who made the decision to put down roots in Lockhart and open their clothing store after taking a trip into town for lunch.
To read the full story, pick up a copy of the Post-Register.