Ramona (MoMo) Moreno Rodriguez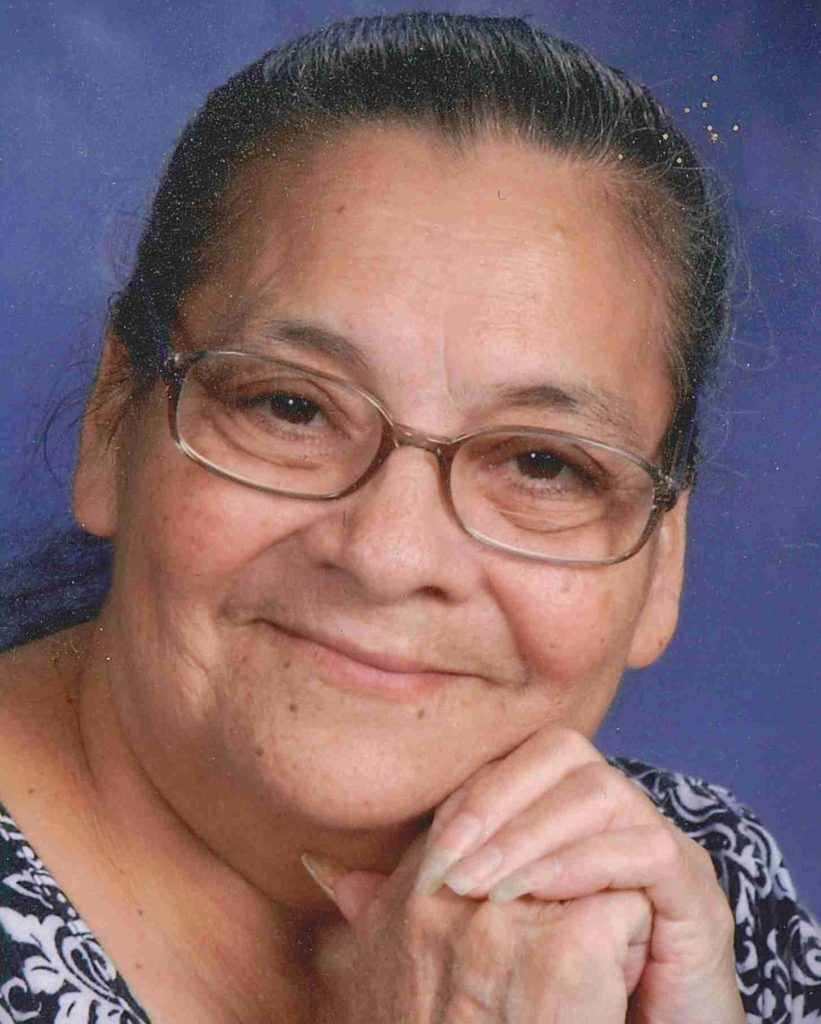 Our beloved Mother, Ramona "MoMo" Moreno Rodriquez, 71, was called to her eternal home in Heaven on Saturday, January 16, 2021. She was Born on February 27, 1949 to parents Juan Moreno and Cresencia Galicia Martinez Moreno in Lockhart, Texas.
Ramona was welcomed by many brothers and sisters. Her total family included brothers, Steve Martinez, Tony Martinez, and Cresencio "Chris" Moreno; sisters, Manuela Martinez Escobedo, Rebecca Martinez (Bates, Frances Moreno Gonzales, Janey Moreno Mendez and Mary Moreno Bell.
Growing up in the 50's and 60's was incredibly challenging. It would shape her into the hardworking, determined, and intelligent woman she grew to be.
She was married at a young age to Manuel Rodriquez. After his passing in 1979, she became a single parent, raising seven children on her own.
Ramona worked most of her life in childcare and housekeeping. Her reach and influence will never truly be known as she touched many lives and was a friend to everyone. She would always lend a hand to anyone who needed it.
She was a marvelous and highly regarded cook and would feed anyone who came to her home hungry. She was known for her huge homemade tortillas, fideo, carne guisada, and more.
She was committed to her Catholic faith and her church, St. Mary's of the Visitation. Momo was steadfast in prayer and was an example to shine the light of Jesus Christ throughout the world.
Momo was an inspiration in the fact that she left school early but had returned to complete her G.E.D., all while working and raising her children.
She had 7 children that absolutely adored her. To us she was the perfect mother. God placed in her a heart of gold, a will of iron, a firm hand, and a gentle spirit.
Ramona is preceded in death by her parents Juan and Cresencia Moreno; brothers Steve Martinez and Cresencio "Chris" Moreno and sister, Manuela "Mamie" Martinez Escobedo, as well as by her granddaughter Angel Emilia Rodriquez.
Ramona is survived by her family of seven children: Manuel G. Rodriquez (Ruby), Daniel R. Rodriquez, Michael A. Rodriquez, and John R. Rodriquez (Olga), Joanne Rodriquez Castillo (Edward), Carolyn Rodriquez Castillo (Joe) and Teresa M. Rodriquez Voigt (Renea). She is also survived by her brother Tony Martinez; sisters: Becca Bates, Frances Gonzales, Janie Mendez, Mary Bell, as well as many nieces, nephews, grandchildren, great grandchildren and great-great-grandchildren.
John 14:2 In my Father's house are many mansions; if It were not so, I would have told you. I go to prepare a place for you 3. And if I go and prepare a place for you, I will come again, and receive you unto myself that where I am, there ye may be also.
The family will receive family and friends on Tuesday, January 19, 2021 from 5-9 PM with a Rosary at 7 PM. A Mass of a Christian burial will be held at St. Mary's of the Visitation Catholic Church on Wednesday, January 20th beginning at 10 AM with burial to follow at St. Mary's Catholic Cemetery. Pallbearers will be Daniel Rodriquez, Manuel Rodriquez, Edward Castillo, Joe Castillo, Paul Daniel Rodriquez, Michael Cuellar, Jacob Cuellar and Joshua Castillo. Honorary pallbearers are Ramona's great grandsons including Devon Rodriquez, Ezekiel Rodriquez-Zapata and Elijah Zapata.