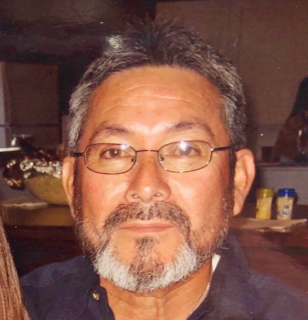 September 8, 1956 – September 2, 2022
Raul "Rudy" Caudillo, 65, of Lockhart, Texas, died on Friday, September 2, 2022. He was born on September 8, 1956, in Freemont, Ohio, to Leon Caudillo and Erminia Tello-Hernandez.
Rudy worked as a heavy equipment operator in the construction industry. He enjoyed spending time with his entire family, especially his wife of 48 years, Irene.
His is preceded in death by his father Leon, mother Erminia, stepmother Angela Salazar-Caudillo, brother Paul Caudillo, brother Santos Hernandez, and sister Mary Alice Gutierrez.
He is survived by his wife Irene Hurtado-Caudillo, daughter Jennifer Velasquez and husband Toby, son Jason E. Caudillo and wife Angela, and son Rudy J. Caudillo and wife Wanda.
He is also survived by his siblings: Diana Salas and husband Hector, Ruben Caudillo, Gloria Stedman and husband Mark, Ester Yanez and husband Lucio, Virginia Rodriquez and husband Jesse, Lorrie Ruiz and husband Julio, Teresa Hernandez-Pharis and husband Chris, Louisa Hernandez, Crystal Hernandez Ledesma and husband Eric, Tommy Hernandez, Ricky Hernandez, and Daniel Hernandez.
He leaves behind a legacy of 11 grandchildren: Jovan Caudillo, Ayden Caudillo, Keayra Velasquez, Lauren Velasquez, Toby Velasquez, Karleigh Caudillo, Brody Caudillo, Luke Caudillo, Fabian Gonzales, Angelina Gonzales, and Cristy Roak. His five great grandchildren include: Melani, Gonzales, Milo Gonzales, Samuel Gonzales, Braxton Roak, and Lillian Rose Jackson.
Pallbearers will be Felix Martinez, Paul Caudillo, Robert Caudillo, Alan Dodson, Max Herrera, and Jesse Sanchez. Honorary pallbearers are Toby Velasquez, Jr., Brody Caudillo, Luke Caudillo, and Ayden Caudillo.
Visitation will be on Wednesday, September 7 at Thomason Funeral Home in Lockhart from 4 to 8 p.m., with a recitation of the holy rosary at 7 p.m. Mass of Christian Burial will be celebrated Thursday, September 8 at 10 a.m. at Saint Mary of the Visitation Catholic Church in Lockhart, followed by interment at Saint Mary Cemetery. Arrangements are under the direction of Thomason Funeral Home. For more information and to sign the online registry, please visit thomasonfuneralhome.com.