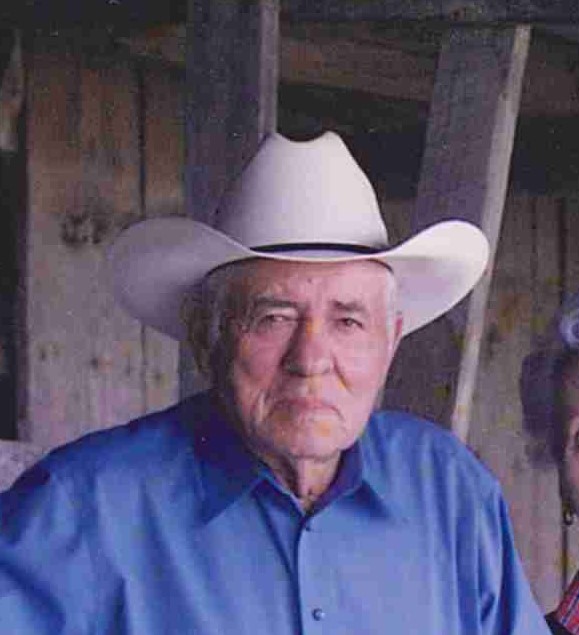 Reinhart "Cooper" Homann, 90, of Mendoza, TX, passed away peacefully with family by his side on February 22, 2023. He was born September 9, 1932, to Phillip and Lottie Homann in Caldwell County. Reinhart was his birth name, his fastpitch softball buddies gave him the name Cooper, and he was known to his siblings, and nieces and nephews as Sonny. He was the youngest of five children to his older siblings Mary, Olga, Lena, and Arthur. He was preceded in death by his parents, brother and all three sisters as well as his loving wife of 65 years, Virginia. He is survived by his five children, Alton Homann and wife Vicki, Amy Hilbig and husband Michael, Sue Beck and husband Stephen, Joanie Cook and husband Wade, Randy Homann and wife Tanya, 10 grandchildren, Jason Homann (Erin), Justin Homann (Tasha), Casey Hilbig (Kaley), Amanda Quintanilla (Scott), Amber Beck, Allison Gill (Kolby), Nicole Ollis (James), Daniel Cook, Randa Homann and Tyler Homann, and 11 great grandchildren, Atlee, Emery, Sutton, Harper, Hudson, Grady, Holden, Sawyer, Nathan, Jackson and Liam. Some of his great grandchildren are carrying on his name Cooper out of great respect for this man.
He was a great farmer and rancher, supporting his family by making sound decisions that would have the greatest probability of making money. He always looked forward to sale day at the Lockhart Livestock Auction on Thursdays, where he often purchased cattle of all kinds depending on what he needed to fit into his operation at that time.
He was somewhat of a community veterinarian. Through the years many meals were interrupted when neighbors called needing a calf pulled or a cow sewed up. He was called upon often to diagnose cattle ailments such as bloat, milk fever, mesquite bean poisoning, prussic acid poisoning, hardware disease, woody
tongue, foot rot, black leg and grass tetany to name a few. He raised cattle and crops on his own land and leased other pastureland to raise more cattle. He also took care of another 1000-acre ranch for another family. When asked one time if he knew how many cows he had, he replied, "No, but I can tell you if one's missing." These endeavors led to him being awarded Agribusinessman of the Year by the Lockhart Chamber of Commerce in 2015. He loved the land and often stated that "They're not making any more land."
He and wife Virginia, always were great supporters of the Caldwell County Livestock Show in Lockhart, donating a heifer each year for over 20 years to be auctioned off to raise money for scholarships. Through their generosity, they were awarded Friends of the Year in 2004 and again in 2014.
It would be difficult to estimate the number of square bales of hay he baled in his lifetime. He went through a lot of baling wire. He still used one of the last wire square balers left in the county. He always baled good uniform solid bales, checking weight of bales often to make sure that anyone purchasing his bales of hay would get their money's worth.
The family would like to extend special thanks to Heart-to-Heart Hospice of San Marcos for their sincere and loving care, Dr Laurence, Rebecca King and Amelie Garza and all the staff, Travis County Fire Rescue, Caldwell/Hays County ESD 1, and his beloved caregivers, Melodie Ramirez, Rachel Martinez, and Sally Mendoza. Those who devote their lives for the care of others are truly angels of God, and our lives would be much more difficult without you. God bless each and every one of you!
In Lieu of Flowers, Memorial contributions may be made to Caldwell County Jr. Livestock Show (CCJLS) and sent to P.O. Box 1046, Lockhart, TX 78644.
A visitation was held on Sunday, February 26, 2023, at McCurdy Funeral Home from 5pm to 7pm. Funeral services began at 10am at McCurdy Funeral on Monday, February 27, 2023 with a burial at 2pm at Memory Lawn Memorial Park in Martindale, TX. www.mccurdyfuneralhome.com