Robin Lee Beaver was born on March 3, 1950, in Austin, Texas, and passed away peacefully at his home in Lockhart, after a four-year struggle with the aftereffects of a massive stroke.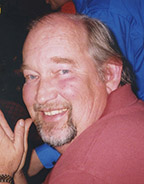 He graduated from Croc

kett High School and attended Travis High School. He was always active in rodeo and in band activities.
He also attended Blinn College.
He married the love of his life, Janet Beaver, in 1994. Over the years, they enjoyed "jeeping" fishing and many adventures with their dear friends, Rusty and Phyllis Horn, Mark and Lorna Montgomery and Gaylene Horn.
He was preceded in death by his parents, Peggy and Leslie Beaver.
He is survived by his wife, Janet; stepdaughter, Joanna Ellis Parra and husband, Manuel; and his beloved granddaughters, McKenna and Brooklyn. He is also survived by his brother, Allen Beaver and wife, Linda; nephews, Cody and Kyle Beaver, and their families; aunt, Barbara Brawener, and several cousins.
A private memorial will be held for this very special man.