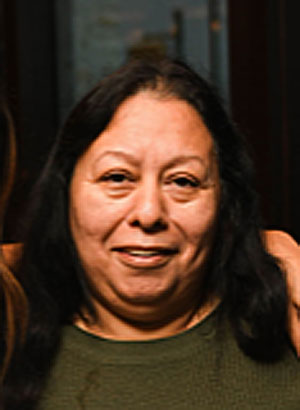 August 15, 1964 – July 7, 2022
Rosa P. Perez passed away on Thursday, July 7, 2022, at the age of 57. She was born to Pablo and Apollinar "Pola" Serrato Peralez on August 15, 1964, in Lockhart, Texas.
She married Roy Perez on May 26, 1984, in Lockhart, Texas. She was devoted to her family and will be fondly remembered for her bold and sassy character and for her banana bread recipe that she took along with her.
She was preceded in death by her parents, two brothers, Jesse Peralez and Arturo Peralez, and two sisters, Frances Peralez and Audelia Lopez.
She will be remembered lovingly by her surviving family, husband Roy Perez, daughter Vanessa Perez, her 4 grandchildren Presley, Troy, Zayda and Halo. She is also survived by brothers Pablo Peralez Jr., Samuel Peralez, Reynaldo Peralez, Rogelio Peralez, Luis Peralez, Larry Peralez, and Armando Peralez; sisters Celia Martinez, Virginia Lopez, Adella De La Cruz, Mary Helen Castillo, Amelia Fernandez and Izela Gonzales; and numerous nieces and nephews.
We will deeply miss our loving mother, wife and grandmother, and we entrust you into the waiting arms of our Lord, Jesus.
Services took place Wednesday, July 13 at Thomason Funeral Home in Lockhart. Arrangements are under the direction of Thomason Funeral Home. For more information and to sign the online registry, please visit thomasonfuneralhome.com.