Slim losses doom Lady Lions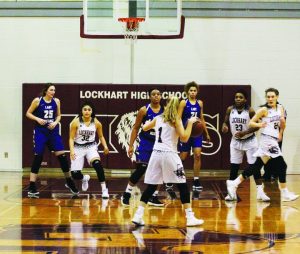 By Miles Smith
Editor / POST-REGISTER
The Lockhart Lady Lions' basketball season came to an end Tuesday night after a pair of losses to close their 2017-18 campaign eliminated them from playoff contention.
Needing to win one of their final two games to have a shot at the postseason, the Lady Lions fell 32-28 at Marble Falls before closing their season with a 33-24 loss to Kerrville Tivy.
Hope remained alive after the first half against Tivy, with Lockhart holding a 1-point lead in a low-scoring game in two quarters of play.
"The first half was taken 13-12 with a last-second jump shot by Sydney Shaw," said assistant coach Alexis Aviles Marrero. "Lockhart held the lead 21-20 after the third quarter and the fourth quarter was close until halfway through, until TIvy started wearing the Lady Lions down."
From there, the shots fell for TIvy, which managed to sink its free throws and keep the ball away from the Lady Lions to close the game.
Head coach Dennis Helms said he was pleased with his team's effort to close out the season.
"I was proud of the heart that our girls showed as they kept fighting even though our lack of depth took its toll," Helms said.
Princess Daniels and Kara Pickle each scored eight points to lead Lockhart. Yasmine Mackey added six points.
Against Marble Falls, the Lady Lions managed to lead through three quarters before Marble Falls managed to hold them scoreless in a 6-0 final frame.
Daniels scored 13 points and added one rebound, Pickle scored 6 points and grabbed one board, and Shaw managed 5 points, 5 rebounds and 2 assists. Mackey added 2 points, 3 rebounds and an assist, and Kallie Krenz contributed 2 points and 3 assists.
Lockhart finished with 20 total wins, but managed just eight of those in district play. The Lady Lions were perfect in non-district play to begin the year, surging out to a 12-0 record before Christmas break.
Struggles continue
for Lions
The Lockhart Lions varsity boys team dropped a pair of losses last week in district play, falling 54-41 to Marble Falls and 56-41 to Medina Valley.
Against Marble Falls, Lockhart went into halftime tied before the Mustangs pulled away in the second half.
Michael Joseph led the Lions with 10 points and Adam Romero added 9.
The Lions kept it close against Medina Valley, going into the final quarter down four points before Medina Valley pulled away in the final frame.
Romero led Lockhart with 15 points, and Logan Schautz added 10.
The Lockhart JV and freshman squads each recorded wins last week. Lockhart's JV bested Medina Valley 42-40, and the freshmen recorded their first district win of the season with a 48-45 victory.