Winnette Vinyard Wimberly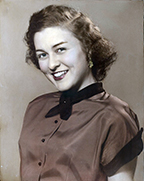 Longtime Clear Lake City resident and pediatrician Dr. Winnette Vinyard Wimberly passed away on the morning of July 10, 2013, to

go to her well-deserved reward with her loving Lord and Savior Jesus Christ. Winnette was 78.
The precious only child of Frankie Jane Jenkins Vinyard and Wilburn Morris "Doc" Vinyard, Winnette was born at home on Aug. 31, 1934 in Gander Slough, Texas (near Luling), a small oil field community which no longer exists. Winnette grew up in nearby Prairie Lea, another small oil field community, and had recently refurbished her childhood home, where she lived until illness took her back to Clear Lake City.
While Dr. Wimberly's four children were still young, she decided to fulfill her lifelong ambition to attend medical school to become a pediatrician. She attended Texas Women's University in Denton and Rice University in Houston. Practically a pioneer, she was one of the first women to receive an M.D. from the University of Texas Medical Branch in Galveston. During her 28 years of practicing pediatrics in the Clear Lake City area, Winnette endeared herself to a large and loving following of patients. Upon retirement, she served for a number of years as a locum tenens physician, which took her to clinics as far away as El Paso and south Texas. She was also a dedicated church volunteer.
Winnette will be remembered for her zest for life and love of all things that involved speed, from cars to boats to airplanes, many kinds of which she owned over the years. She was an avid sports fan and threw her enthusiasm behind all the local teams. She also enjoyed hunting and fishing, and could cook up an excellent steak and seafood dinner.
Winnette was very definitely the matriarch of the family and innumerable family gatherings centered around her. She was a thoughtful, generous gift giver and a gracious hostess. She loved to travel, and would wear out the roads in her Lexus visiting her children and grandchildren.
Although plagued by a myriad of physical problems over the last 10 years, she maintained her feisty spirit and never let a chance to enter into a debate go by. Her opinions and her will were strong and forceful, but were balanced by her fierce loyalty and love for her family. She was a force to be reckoned with and she will be sorely missed by those who loved her.
Winnette's family would like to thank the wonderful staff at Emeritus Clear Lake. They would also like to extend love and thanks to Loly and The Caring Angels for the loving care they gave to Winnette during her final month.
Winnette is survived by her eldest daughter, Cyndi Wimberly, her partner, Patty Manning, of Alpine, and grandchildren Marley, Mary and Jonathan Boyd; her son, Dr. David Wimberly, his wife, Kelli, and granddaughters Claire, Hannah and Emma, of Friendswood; and daughter, Sally Eustice, her husband, Scott, and grandchildren Dylan, Morgan and Mason, of Clear Lake City. She was preceded in death by her son, Michael Wimberly, and is survived by grandson Sean Wimberly, of Austin.
A visitation was held at Crowder Funeral Home in Webster on Sunday, July 14. The funeral took place at Clear Creek Community Church in League City on Monday, July 15. A graveside service was held at Memory Lawn Memorial Park cemetery in Martindale, Texas on Monday, July 15. In lieu of flowers, donations may be made to Prairie Lea Baptist Church, 6725 Texas 80, Prairie Lea, Texas 78661.