2 indicted in deputy shooting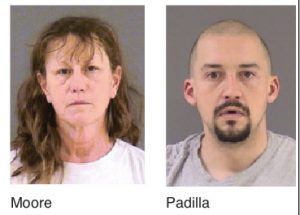 By Miles Smith
LPR Editor
A Dale man and woman arrested in connection with the shooting of a Caldwell County deputy in February were indicted in May during Caldwell County Grand Jury proceedings.
Eduardo Padilla, 33, and Kimberley Moore, 55, were each indicted on a deadly conduct charge. Deadly conduct is a third-degree felony and carries a maximum sentence of 2-10 years in prison and a fine of up to $10,000.
According to Caldwell County Sheriff's Office reports, deputies were responding to a service call around midnight on Hidden Oak Road when shots were fired. Deputy Jay Johnson sustained multiple gunshot wounds and was transported to a Central Texas hospital.
Johnson spent several weeks in the hospital and has undergone a number of surgical procedures to repair injuries to his arm.
Read more in this week's Post-Register.