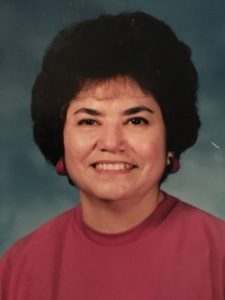 Antonia Merrell, 80, was called home to her Heavenly Father on January 19, 2018, passing away peacefully at a hospital in Lufkin
She entered this world on June 13, 1937 in Lockhart, TX, born to the late Mr. and Mrs. Jose Mojica. She was married to the late Kenneth Merrell in 1963.
Toni took pride in giving of herself to others. Her life as an humble servant took form in many ways: She was a wonderful and beautiful mother and wife, she also worked as a teacher's aide for many years with Lockhart ISD, and she loved being a Eucharistic Minister at St. Mary's Catholic Church and taking the Body of Christ to those that were in nursing homes or homebound. After retiring in 2011, Toni moved to Lufkin to be with her son and his family.
Toni was preceded in death by parents, Jose and Maria Dolores; brothers, Ignacio Mojica, Martin Mojica and Marcos Mojica; sisters, Josefa Rodriguez, Sandalia Guerrero, Gregoria Cardenas and Refugia Pinales; and her husband of 35 years, Vicente Castillo.
She is survived by her son, Danny Merrell (Glenda) of Hudson, Texas. Grandchildren (who lovingly called her Gran Gran) Chandler, Chase, and Cullen Merrell, also from Hudson. . She is also survived by her sister Patsy Ortiz (Delfino), of San Antonio. She also leaves numerous nieces, nephews, and other family members and friends.
In lieu of flower, the family requests that donations be made to St Mary's of the Visitation Catholic Church in Lockhart or St Andrew the Apostle Catholic Church in Lufkin. The family would also like to thank the staff of Hospice in the Pines in Lufkin for their beautiful care of Toni during her last days..
Visitation will be on Monday, January 22nd beginning at 3 p.m. at DeLeon Funeral Home in Lockhart. The visitation will continue at St Mary's of the Visitation Catholic Church from 5 pm until 9 pm. Holy Rosary will take place at 7 pm Monday, also at the church. Funeral Mass will take be celebrated on Tuesday at 10 a.m. with the burial following at Cementerio Navarro Historico in Lockhart. A reception following the mass and burial will take place at the St Mary's Parish Hall.
To view and sign the guestbook, visit https://post-register.com/obituaries/antonia-merrell