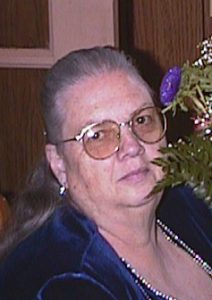 Gloria Jean Riddle, 71, of Dale, Texas, passed away Sunday, January 7, 2018 in Kyle.
Visitation will be Tuesday, January 16, 2016 at Eeds Funeral Home Chapel from 5-8 :00 pm.
A Graveside Service will  be held on Wednesday, January 17, 2018, 2:00 p.m.,at Bunton Cemetery in Dale, Texas with President Stewart Bell presiding. Pallbearers will be Daniel Hannah, Russell Riddle, Terry Riddle, Steve Laube, Alex Newlan and Bobby Calton. Honorary Pallbearer is Zackery Riddle.
Burial will follow immediately after the Graveside Service.
Gloria was born February 18, 1946 in Tulare, California to Johnny W. Sisk and Isabel Drayer Sisk.
Gloria married Clyde Riddle on March 20, 1964 and was a happy homemaker all of her life.
Gloria was preceded in death by her parents, and a grandson – Cayden Hannah.
Gloria is survived by her loving husband, Clyde; Four Children, Renonda Quevedo of Hayward, Ca., Alton Riddle and wife Brenda of Taylor, AZ, Evyann Hannah and Danny Hall of West Plains, MO, and Therin Riddle and wife Laurie of Virginia; 1 sister, Loretta Williams of California; 1 brother, Carl Sisk of California; 17 Grandchildren, and 12 Great-Grandchildren; and a host of nieces, nephews and other relatives.
​Gloria loved crafts of all kinds, and was an excellent cook, and loved camping and fishing.
Arrangements with Eeds Funeral Home, 408 South Main St, Lockhart TX 78644 (512) 398-2343.
To view and sign the guestbook, visit https://post-register.com/obituaries/gloria-riddle