Chester Arthur Guynes Jr.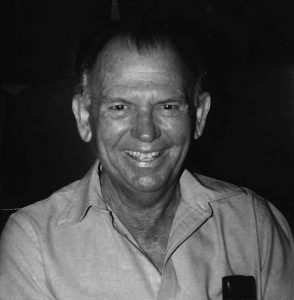 Chester Arthur Guynes Jr. was born Aug. 12, 1934 to Chester and Rena Guynes in Bastrop County, Elgin, Texas and attended schools in Elgin.
Chester grew up in Austin and was employed by Renfro-Drugs and Big Bean Grocery. He served in the Army Reserves for six years and in his twenties, went to work for the City of Austin, Public Works Department for 33 years, until retiring in 1988.
He married Gladys Marie Ash on January 18, 1957 and they had 3 children, James, Janice and Jesse. In 1986, Chester and Marie moved to Lytton Springs, where they became members of the Lytton Springs Baptist Church and Chester became caretaker for the Church for many years.
During his retirement years, Chester and Marie liked to travel and go camping, and enjoyed taking their four grand-children along with them.
Chester is survived by his wife of 61 years, Marie; son, James and wife Becky of Lytton Springs, daughter, Janice Campbell and husband David of Georgetown, TX , and son, Jesse and wife Beverly of Leadbetter, TX; four grand-children, Brian Guynes and wife Jessica, Stephen Guynes, Misti Harvick and husband James, Daniel Campbell and fiance' Amanda; four great-grandchildren, Chloey and Jordan Guynes, Jasmine and Madison Harvick; four sisters, Rena Faye Ihlenfeldt, Joyce Bradshaw, Evelyn Wimberly and husband William, Sharon Melton and husband Rodney.
He was preceded in death by his parents, Chester and Rena Guynes, two brothers, Jim and Johnny Guynes, and his parents-in-law, Almus and Gladys Ash.
Serving as pallbearers are his grand-children, Bryan and Jessica Guynes, Stephen Guynes, Daniel Campbell, nephew, Johnny Ray Bradshaw, and brother-in-law, Gene Ash.
Family will receive friends at 10:00 am and funeral services will be held at 11:00 am, on Saturday, October 13, 2018, at Lytton Springs Baptist Church, with a reception immediately following the service. A formal procession will depart the church at 1:30 pm for burial at Speir Cemetery in Elgin, TX.
In lieu of flowers the family requests that donations be made to Heart to Heart Hospice of San Marcos. Special thanks and gratitude to Rosario Narro (Rose), Lydia Musgrove, Tiffany Anderson, Susan McKinnerney, Jose Medina Mendoza and many others.
Arrangements under the care and guidance of McCurdy Funeral Home, 105 E. Pecan St.
To view and sign the guestbook, visit www.post-register.com/obituaries/Chester-Arthur-Guynes-Jr.