Elf-conscious volunteers get into spirit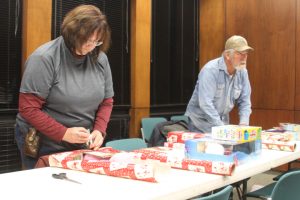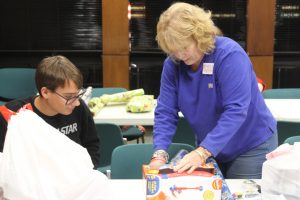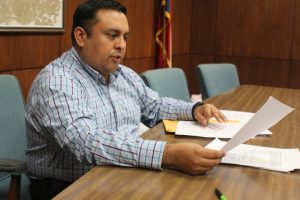 By Miles Smith
Editor
POST-REGISTER
For one night, First Lockhart National Bank on Main Street was transformed into Santa's workshop as adult-sized elves busily wrapped presents for boys and girls.
Lockhart Chamber of Commerce members and employees, elected officials, bank employees, teachers and a foreign exchange student worked feverishly on Dec. 7 with ribbons and wrapping paper to get dolls, books, toys and games ready for 43 low-income families and 106 children ages 3-8 who participate in the Head Start program that runs through Community Action at the Lockhart Child Development Center.
First Lockhart National Bank Vice President Abel De La Cruz said the toy drive is an annual fixture at the bank, and added that the bank employees, Community Action members and other volunteers who participate have the process for stretching $2,500 into Christmas for more than 100 kids down to a science.
"We call around and find out where to get the best bang for our buck," De La Cruz explained. "It's a lot of kids that we're buying for. It's about a 4-5 hour process to scout out the toys and do the shopping. When we first started, it took between 6-8 hours.
"We can spend about $25 per child, which works out to being two gifts for each kid. We try to pick toys that we think the kids will like, but it's tough because we have to make our dollar stretch."
Toys are purchased and sorted by the child's age and gender. Gifts are wrapped and are packaged in tall kitchen bags that Community Action distributes to each family.
"Every bag is labeled for each family," De La Cruz said. "A family with a 3-year-old and an 8-year-old is going to get the right bag."
Breaking up the sea of adults who participated was Italian exchange student Pietro Laudenzi, who smiled amiably as he diligently helped with the wrapping.
The teen, who is attending classes at Lockhart High School through the end of the school year, said he was enjoying his stay in the community.
"He's here because part of the exchange student program is doing community service," explained Suzy Falgout, who is hosting Laudenzi. "But he's already completed more hours than he needs to. He has amassed over 100 hours. He just enjoys doing it."
Head Start teacher Callie Burton said the real reward would come on Christmas morning as children tear into the festive wrapping paper.
"The kids are going to be really excited by all these presents," Burton said.