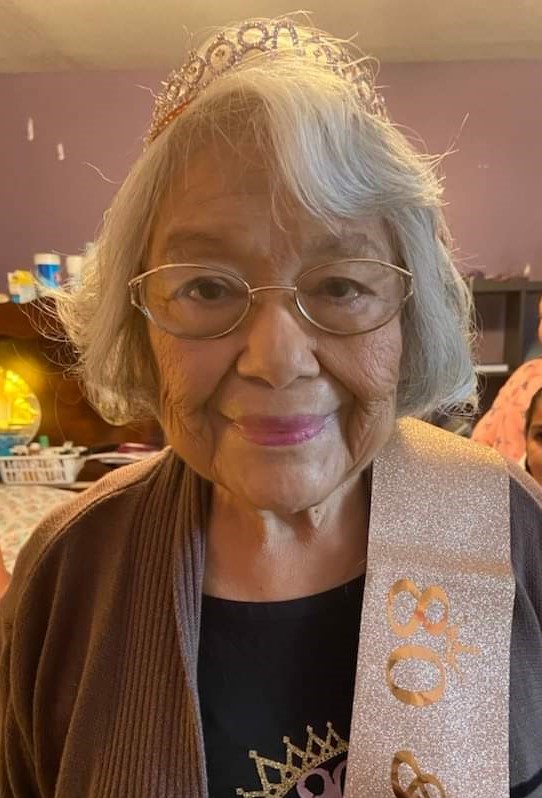 Felipa went to be with our Lord on February 24, 2022, at her home surrounded by her family. She was born to Felipe and Juana Limas on November 20, 1941 in Lockhart, TX. Felipa was blessed with 80 years of life.
She is preceded in death by her Parents, her late husband, Mr. Luis Villarreal, her son Carlos Phillip Urrutia, Sr., and the father or her children, Mr. Valentin Urrutia, Sr.
She is survived by her children, Rosalinda Urrutia (Mario), Valentin Urrutia, Jr (Terri) and Jaime Urrutia (Tish). Also left to cherish her memory are her sister, Josephine Gonzalez (Jesus), her brothers, Alfredo Limas (Stella) and Angel Limas (Julie). She was blessed with 16 grandchildren, 45 great grandchildren and 4 great great grandchildren, as well as numerous nephews and nieces, whom she loved so very much and were her pride and joy.
Felipa was a graduate of Lockhart High School. After her marriage to Mr. Valentin Urrutia, Sr., she was a stay-at-home mom until her youngest child was 4 years old. She then began her 20-year career with Motorola, where she began as a clerk and retired as a supervisor. She always said that the job she was the proudest of was that of being a Mom.
Felipa's favorite past-times included gardening and arts and crafts. She was a very creative soul and could make everything shine with beauty. She loved plants and flowers and enjoyed watching the fruits of her labor.
Felipa was a humble person and treated everyone with kindness and respect. She was very generous and gave whole-heartedly to people in need. She said that she felt better giving than receiving. If you ask her children and grandchildren, they will tell you that she always had the perfect words of advice and comfort. She was a woman of great faith and was ready to accept the promise of eternal life. Go with God our beautiful Queen.
A special thank you to Hope Hospice for all the kindness and care of our mother during her illness. And a special thanks to all the family and friends that helped with caring for Mom. Your kindness and words of condolences will never be forgotten.
A visitation will be held at McCurdy Funeral Home on March 3, 2022 at 5 PM with the Holy Rosary recited at 7PM. A Mass of a Christian burial will begin at 10AM at St. Mary of the Visitation Catholic Church on Friday, March 4th with burial at St. Mary's Catholic Cemetery. Pall Bearers will include: Rocky Urrutia, Phillip Urrutia, Daniel Urrutia, Isaiah Urrutia, Derrick Chargois, Christopher Martinez and Nicholas Martinez.