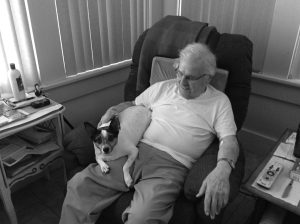 Ferris M. Joseph, Sr. passed away peacefully on Friday, February 23, surrounded by his loving family. He lived all of his 90 years in Lockhart except for his time in the U.S. Army. He was one of nine children born to John and Susie Joseph. Ferris graduated from Lockhart High School in 1946 and was drafted into the Army where he served with the American Occupation Forces in Japan following World War II.
After serving his country, he returned to Lockhart where he met the love of his life, Jerrine (Jerry) Kinsey of Austin. He often said he knew she was the one for him the moment he saw her. They were happily married over 60 years during their marriage there were three children born to this union – Mike, Nancy, and Peggy.
Ferris loved the produce business. His father started the business in 1932 and he began working with his father at the age of 7 years delivering produce. After their time in the Army, Ferris and his older brother Joe took over the business and formed Joseph Brothers Produce. Brother Joe left the business for another opportunity in 1955 and the family tradition continued as Ferris Joseph Produce.
Since that time, Ferris' son Mike, and later, his grandson Michael have become part of that family tradition. All of the grandsons worked with PawPaw during their younger years, riding along with him to pick up produce in San Antonio or make deliveries in Lockhart and surrounding areas. Likewise, over the years, Ferris' daughters have played a role in the produce business. Ferris was always so proud of his family and their involvement in the business.
Ferris was especially proud when Ferris Joseph Produce opened a brand new warehouse on Bufkin Lane in 2017. Though not in the best physical health, Ferris was mentally very sharp and he enthusiastically worked two days a week assisting with purchase orders and pricing. We were blessed to have the benefit of his many years' experience and for him to know that his legacy, the family tradition in produce, was in good hands and would continue.
Mr. Joseph was preceded in death by his wife, Jerry; his parents; his siblings – Joe, John Jr., Tony, Elizabeth, Lucy, Carol, and Mary Ann; his great-grandson, Michael Wayne Joiner, III and Jimmy Coggins. He is survived by his son, Ferris M. (Mike) Joseph, Jr.; daughters Nancy (Billy) Chandler and Peggy (Frank) Coggins; sister, Pat (Fred) Hieber; and grandsons, Michael (Jo Ann) Joiner, Doyle (Lorraine) Crawford, Billy Glenn Chandler, Jr. He is also survived by his little buddy "Tater", who stayed either by his side or on the bed comforting him. Special thanks to Drs. Arjun and Renu Mohandas, Dr. R. Shetty, and Dr. V. Krishna, and Heart to Heart Hospice for the love and kindness shown him throughout his illness and last days.
Family was always so important to Ferris and his grandsons were the world to him. He loved life and was a special friend to so many in this community. We will miss him in so many ways, but we are grateful to have had him with us for so long.
Visitation is from 1-3 pm, Thursday, March 1, 2018, at Eeds Funeral Home followed by a reception at Loop & Lils Pizza Restaurant, 107 N. Main, Lockhart, from 3:30-5:30 pm. Eeds Funeral Home is located on 408 S. Main St, Lockhart, TX 78644 512-398-2343
To view and sign the guestbook, visit https://post-register.com/obituaries/Ferris-Joseph.