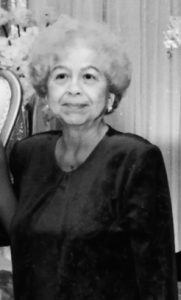 Cecilia A. Tello, 86, of Houston, Texas passed away on February 20, 2018. She was born on August 7, 1931 in Lockhart, Texas to Alvino and Sulema Alva.
She was the first born of 15 brothers and sisters. She was a hardworking, organized, caring, devoted mother, grandmother and great-grandmother. She was very religious and dedicated to our Lord Jesus Christ. When she retired, Cecilia then dedicated herself to care for her grandchildren, great-grandchildren and many children from the neighborhood. There was always a ton of food and drinks for all who came to her house. No one goes hungry was our motto. Save $2 and spend $1!! Everyone works always! Sadness isn't an option – work out your stress or aggressions, clean and keep busy.
A very beautiful woman – let us celebrate her life! Stay strong and positive so you may accomplish all in life for there will be many challenges in life that you will conquer.
Cecilia is survived by her husband of 66 years, Adolfo Tello; her children, Josie Tello Hernandez and Adolfo Tello, Jr.; 5 grandchildren, Raymond, April, Melissa, Adolfo III and Monica; and 4 great-grandchildren, Alex, Alissa, Anthony and Ariana.
Family received friends at McCurdy Funeral Home from 3 pm to 7 pm, Sunday, February 25, 2018, with recitation of the Rosary at 7:00 pm. Mass of Christian Burial was celebrated at 10 am, Monday, February 26, 2018 at St. Mary's Catholic Church. Interment followed at St. Mary's Cemetery.
Arrangements are under the care and guidance of McCurdy Funeral Home, 105 E. Pecan, Lockhart, Texas, 78644.
To view and sign the guestbook, visit https://post-register.com/obituaries/Cecilia-Tello.