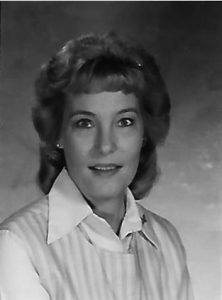 Pam was born on April 24, 1940, in Goodland, Kansas to Lucille Roberts Close and Donald Clarence Close. Died on February 26, 2018 in Austin Texas. Father was a civil engineer with the Rock Island Railroad and mother was an elementary school teacher.
The family moved many times with her father's job and Pam attended public schools in Kansas, Missouri, Oklahoma and Arkansas. She graduated from Central High School in Little Rock, Arkansas and became an Air Force wife with constant moves remaining a way of life. Pam graduated from Southwest Texas University with a BS in English. A year later she completed the necessary courses to receive a Masters in Reading and a second Masters in Education Management. Pam was on the Dean's List each semester and was selected to "Whose Who in America" and a member of Delta Kappa Pi. It is no surprise that Pam met her husband, Tom, in Graduate School. They have a blended family consisting of four boys and two girls. Don and Jon live and work in Austin, Skip lives in League City, Thom Jr. lives in London, England, Lori lives in Austin, and Linda lives in London. Pam has nine grandchildren and five great granddaughters. She was active in the First United Methodist Church and the Wedding Ring Sunday School Class.
Much of her adult life was spent teaching grades 3-8 in the Austin Independent Schools until retirement for health reasons in 1994. As a teacher she was honored by TRACO with the Scholar Award for Excellence in Teaching. She taught classes at Southwest Texas University as well as Sunday School, Vacation Bible School, and Adult Classes. Tom and Pam loved to travel the world and experience the wonders of God's special world. As her health began to decline she worked hard to maintain an active life with church and family.
The family wishes to thank the wonderful doctors at ADC and the nursing staff at Saint David Medical Center North for the outstanding care and devotion shown to Pam during her last days. Nurse Arline on Four East is a saint.
Funeral services will be conducted by McCurdy Funereal Home in Lockhart, Texas with grave side services at Clear Fork Cemetery, Lockhart, Texas at 10:00 on March 2, 2018. A Memorial Service will be conducted at First United Methodist Church, Austin, Texas on March 3, 2018 at 2 a.m.
In lieu of flowers donations may be made to First United Methodist Church Endowment Fund.
Arrangements under the care and guidance of McCurdy Funeral Home, 105 E. Pecan, Lockhart, Texas.
To view and sign the guestbook, visit https://post-register.com/obituaries/Pamela-Jackson.