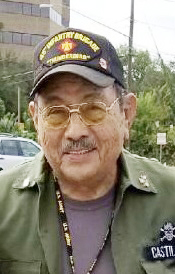 Mr. Geronimo T. Castilleja, 90, beloved   Father, Brother, Grandfather, and Great-grandfather, was called to his eternal resting place on December 8, 2022. He entered this world on September 30, 1932 in Lockhart, Texas, born to Jose and Eloisa Castilleja. 
He was preceded in death by his parents, son, Geronimo (BJ) Castilleja, Jr., and daughter, Sharon Govea. 
Mr. Castilleja is survived by daughter Debbie Castilleja Vasquez Luna; son Donald Castilleja; son Henry Castilleja and wife Connie Castilleja; brother Ernest Castilleja; sister Martina Castilleja; sister Angel Galvan; sister Frances Castilleja; 12 Grandchildren; 18 Great-grandchildren. 
Geronimo served in the Army from 1953 to 1960.
Honored to serve as pallbearers are Israel Castilleja, Richard Govea, Paul Maldanado , Tommy Castilleja , Donald Castilleja, and Henry Castilleja
Recitation of the holy rosary will be at 7:00 p.m. Sunday, December 11, 2022 at DeLeon Funeral Home. Funeral mass will be celebrated at 10:00 a.m. Monday, December 12, 2022 at St. Mary's Catholic Church. Burial will follow in St. Mary's Cemetery.