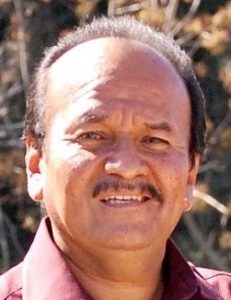 Beloved father, son, brother, and friend Henry S. Ygnacio Jr., age 67, of San Marcos, Texas left his earthly body for an eternal body on December 15, 2017.
Henry was preceded in death by his father, Henry Ygnacio Sr. and one grandchild.
Henry is survived by his daughter, Jennifer Ygnacio-Moreno and husband Israel, son Patrick Ygnacio and wife Ellen and their daughter Isabella Jean; mother Juanita Silva Ygnacio; brothers Diego Ygnacio and Joe Ygnacio; sisters Rachel Perales and husband Lee, and Rebecca Ygnacio and husband Steve, along with many cousins, nieces, nephews, great-nephews, and great-nieces.
The family wishes to thank everyone who called or visited Henry during his courageous fight. Henry really appreciated the calls from friends and former insurance clients. It meant so much to him that he was being prayed for and thought of.
His children wish to thank their extended family for all the care and support that was given to their father during his battle. As this was not an easy fight for Henry, it was equally hard for his children to see their father struggle and the aid in his care will forever be appreciated. While entrusting him to the hands of our Lord and Savior Jesus Christ, they would trade places with him physically to still have him here today.
The family also wishes to thank Texas Municipal Police Association, Hole in the Roof-Waco, Promiseland Church – San Marcos, Central Texas Medical Center Hospice Care Team, Texas Oncology of San Marcos, Dr. Jason Smith, and the support staff – especially the ladies at the front desk.
A rosary was held on December 20, 2017 at Los Angeles Funeral Home and a catholic mass was held on December 21, 2017 at St. John's Catholic Church in San Marcos, Texas with interment at Memory Lawn Memorial Park in Martindale, Texas. A reception was held at Promiseland Church – San Marcos for friends and family.
Pallbearers: Rudy Lara, Tony Martinez, Ray Mendoza, Henry Mireles, Jimmy Mireles, and Terry Norris.
Arrangements under the care of Los Angeles Funeral Home 300 Cheatham St., San Marcos, TX 78666, (512) 392-3676.
To view and sign the guestbook, visit www.post-register.com/obituaries/Henry-Ygnacio