Leland Lewis "Steve" Stevenson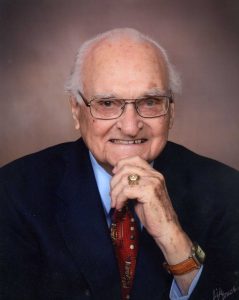 Leland Lewis "Steve" Stevenson passed away December 22, 2017, in Lockhart Texas. He was a proud 98-1/2 years old. People often remarked that he was the nicest man they had ever met. This beloved gentleman was the rock and the heart of his family.
Leland was born May 25th, 1919 in Johnson City, Texas, to John Sidney Stevenson and Bessie Sewell Stevenson. Leland's great-grandfather married the daughter of General Edward Burleson, Vice president of the Republic of Texas.
Leland married the love of his life, Thelma Irene Anderson July 1st, 1942. Following nearly 5 years of WWII service, Leland entered Texas A&M in August 1946 as a student on the GI Bill. He graduated in 1948 as the proudest of Aggies. He was devoted to Texas A&MU all of his life.
After teaching for 3 years in Palacios, Texas, Leland returned to active duty January 1951 as a USAR 1st Lt. He served in the Philippines during WWII and also in Korea. He retired in November 1970 as a Lt. Colonel with 30 years of service. He was a recipient of the Legion of Honor Medal.
Leland had his family with him on tours of duty in Austria, Taiwan, and Germany. Needless to say, one of the family's most enjoyable tours was the 3 and a half years Leland spent teaching at Texas A&M!
Leland and Thelma were married for almost 65 years. Their children Dianne and Mike were devoted to them.
Leland was preceded in death by his parents; his brothers Buford, Dennis, and Sidney Stevenson, and by his sister Geraldine Goebel; and by his dear wife Thelma; his brother and sister-in-law Matthew and Betty Burton; his niece Jane and his nephew Dr. Joe Burton; his nephew Denny Wayne Stevenson; nephew Steven Prehn and niece Penni Prehn; and his cousins Imogene and Alfred Davis.
Leland's family held a graveside ceremony December 28th, 2017 in Lockhart, Texas. A US Army honor guard served as pallbearers, gave a rifle salute, performed his flag presentation, and played "Taps." This beautiful service was conducted by his grandnephew Matthew Burton.
This kind and handsome gentleman deeply loved his family, his extended family, his many friends, his country, church, and Texas A&M. He is survived by his sister Billie Prehn; his daughter Dianne Stevenson; his son Mike and wife Joanne; his grandson Anthony and wife Nadia, and their daughter Cadence; his grandson Nicholas and his wife Becky and their daughter Aubree; and his great-grandson Davin Stevenson. Leland is also survived by his nephew Dr. Andy Burton and his wife Bobby, their sons Matt, Alley, Jack, and Beau, and their wives P.J., Sarah, and Maja and their 16 grandchildren; and his niece Virginia French, her sons Burton and Byron, their wives Jen and Sarah, and great-grandson Charlie; and by his cousins Alfred and Steve Davis. Also, by his sister-in-law Mary Ruth Stevenson and her daughters Sydney and Patty; Mark and Jackie Stevenson, Bill and Rhonda Rucker, Jerry and Sharon Hobbs; and his sister Geraldine's daughter Laura.
Leland's family will hold a memorial service to celebrate his well-lived life January 18th, 2018, 11:00 AM, at Lockhart's First United Methodist Church.
His family would like to give heartfelt thanks to friends and family for their love and support. Thanks also to Darryl Thompson for his help and kindness.
In lieu of flowers, memorial contributions may be made to Texas A&MU Caldwell Country Scholarship Fund; Pegasus School, Inc. in Lockhart; Dr. Eugene Clark Library in Lockhart; LAMA (Lockhart Area Music Association); and the Southwest Museum of Clocks & Watches in Lockhart, Texas. For those desiring, you may also access the online guest registry and obituary at www.wcfish.com.
Dearest Dad, we love you. GIG 'EM AGGIES!
To view and sign the guestbook, visit www.post-register.com/obituaries/leland-stevenson.