Juanita (Janie) De La Cruz Longoria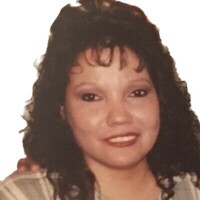 Our beloved Juanita (Janie) De La Cruz Longoria was born April 30, 1965 in Austin Texas. She passed away January 6, 2023. Janie fought with her illness until the end of her life. Janie enjoyed listening to music and was always happy and smiling all the time. She will be dearly missed by family and friends.
Janie was preceded in death by her parents, Eulalio and Julia Delacruz, and her beloved fur babies, Paula and Chica.
She was survived by her husband Lorenzo Longoria. Also, sisters Trini Fabian, Gloria Delacruz-Garcia (Edward), Sylvia Esparza (Fernando), Yolanda Flores (Richard), Angelina Ramirez (Cecilio).
Pallbearers will be Ricardo Flores Jr., Jonathan De La Cruz, Richard Fabian Jr., Leon Longoria Jr., Leroy Longoria, Israel Longoria, and honorary pallbearer, Michael Vega,.
Recitation of the holy rosary will be at 7:00 p.m. Wednesday, January 11, 2023 at DeLeon Funeral Home. Funeral mass will be celebrated at 10:00 a.m. Thursday, January 12, 2023 at Santa Cruz Catholic Church.