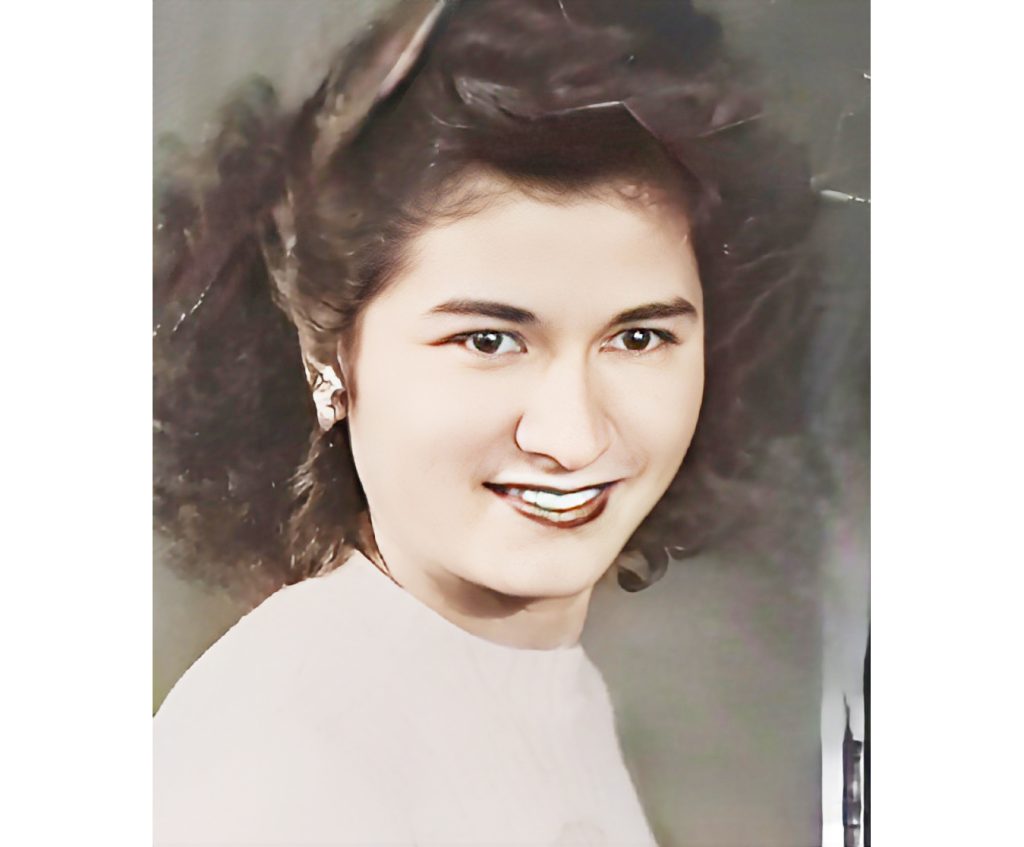 Our beloved mother Juanita Ygnacio was called home to eternal rest by our Lord and Savior Jesus Christ on March 1, 2023. Born in Lockhart Texas on June 12, 1924, to Rosalio and Castula Silva, she was the youngest of four siblings. She is preceded in death by her loving husband of 53 years Enrique Sr.; beloved son Henry Jr. Ygnacio; brothers Antonio and Lupe Silva; and sister Juanita Acosta.
Juanita was a loving and devoted wife, mother, grandmother, great grandmother, mother-in-law, sister-in-law, and aunt. Her greatest joy was cooking for her family for holidays and celebrating family birthdays. A great cook who could prepare a feast, Juanita would also prepare a quick delicious meal for anyone dropping by unexpectedly. In the last couple of years, she regretted that she could not cook those quick meals for guests. She also loved spending time outside tending to her flowers. Especially her favorite flowers, roses.
She started working at an early age to help the family. She, along with our father, instilled in us a positive work ethic, respect for elders, honesty, and kindness.
We thank the Lord for as long as we had her, the time we shared with her and the blessings we have received.
The family wants to extend a big thank you to our younger brother Joe for being the caretaker for our mother. He gave his undivided care, love, and devotion till her last day. A big thank you to our sister, Becky, for always being on call and taking Mom to all her doctor appointments.
In addition, we would like to extend a special thanks to Dr Kimberly Wheeler, Heart-to-Heart Hospice of San Marcos for their sincere and loving care and the Park View Nursing and Rehabilitation Center and its staff.
Those left to cherish her memory are her sons Diego and Joe Ygnacio, daughters Rachel (Lee) Perales and Becky (Stephen) Johnson, and grandchildren Mario Perales, Daphane (Stephen) Houston, Desirea (Randall) Mendoza, Diego Ygnacio Jr., Patrick (Ellen) Ygnacio and Jennifer (Israel) Moreno. She is also survived by several great grandchildren, numerous nieces, nephews and cousins, and sisters-in-law Mariana Rayos of San Marcos, Texas, Otilia Contreras of Los Angeles, California and Francisca Ygnacio of Apple Valley, California.
The family will receive friends on Tuesday March 7, 2023, from 5:00 p.m. to 9:00 p.m. A rosary will be held at 7:00 p.m. at the De Leon Funeral Home.
Mass will be held at 10:00 a.m. on Wednesday March 8, 2023, at the Immaculate Heart of Mary Catholic Church in Martindale. Interment will be at Memory Lawn in San Marcos, Texas.
Honored to serve as pallbearers will be Joey Ygnacio, Randall Mendoza, Stephen Houston, Mario Perales, Mario Perales, Jr., and Larry Rayos.