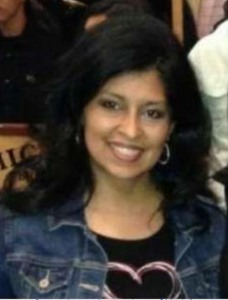 Linda Ann Vela was born on November 1 7, 1971 in San Marcos, Tx to Mary Louise Calderon Puhlhofer and the late Johnny Edward Vela, Jr. she was raised by her paternal grandparents Mr. and Mrs. Joe C. Velasquez in Lockhart. She passed away December 27, 2017 at the age 46.
She is survived by 4 siblings, Nova Vela of Lockhart, Cynthia Gutierrez of Austin, Daniella Hale of
Houston and Casey Vela of Lockhart (wife Jennifer). Her 4 children, Marissa Liserio age 24, Cameron Guevara age 14, Arden Isabella Kennedy age 12, Peyton Gujardo age 10, several nieces, nephews, uncles, aunts, cousins from the Calderon, Vela and Velasquez families.
Linda received her Masters of Science, Organizational Development and Leadership, 3.7 activities included the National Honor Society of Leadership and Success and Bachelors of Arts, Organizational Management from the University of Incarnate Word, San Antonio, TX. She also attended Palo Alto College from 1996-1998. She enjoyed cooking, baking being crafty and ran her own catering business called Tripleplay Services since 2010. She also had been employed with USAA for almost 10 years.
Linda loved spending her weekends at the baseball fields cheering her children to do their best. They also cheered for her as she had started running marathon races. She made sure to go eat with the kids at school, bring treats to their teachers and volunteered in so many areas.
Linda wanted to be a motivational speaker that was her dream. She wanted to start a business, to train potential leaders through self-determination she encouraged every person she would meet to strive to do their best and shared the "Power of You" mission. She was easy to talk to she made a friend in everyone she met. She was so spunky and when she smiled the room would light up. She had so many talents and dancing was one of them. Linda had an amazing caring heart.
Linda was a Lockhart alumna of Class of 1990 and played on the volleyball team however; she graduated from Sinton High School, Sinton, TX. She as well attended Prairie Lea High School briefly. She was also a Pop Warner cheerleader in her younger years. She was a member of the St. Mary's Visitation Catholic Church where she was an altar lady and attended the religious CCD programs. She and the children had been actively attending the Community Bible Church in San Antonio. She helped with day camps and any other church events. She had lived in Lockhart, Sinton, Beeville, Killeen, Alvin, Bloomington, Elmendorf, Victoria and finally making San Antonio her final resting place.
Linda will be missed by many people; her family and friends continue to ask for your prayers as they deal with this difficult situation. If you are in an unsafe relationship, please seek help and stay safe. The National Domestic Violence hotline 1-800-799-7233.
A memorial/candle light vigil will be held Sunday, January 21 , 2018 to celebrate her life, her memories, her spirit and her love for her family and friends. All are welcome to attend. Please wear pink, her favorite color, or purple for domestic violence awareness.
4:00 pm Candlelight Vigil at Life Unlimited Church 2301 S. Colorado St. Lockhart, TX. 5:00 pm Memorial/Reception at Lockhart Lions Evening Club 220 Bufkin Lane Lockhart, TX.
To view and sign the guestbook, visit www.post-register.com/obituaries/linda-vela.