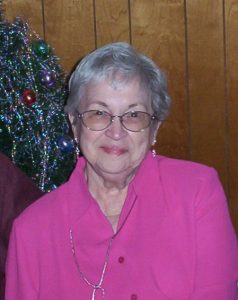 Maurine Alexander Taylor, age 87, was born to Oliver Dan Alexander and Esther Cole Alexander on October 30, 1930 in Dale Texas. She passed away on January 11, 2018 at her home in Lockhart, Texas. She was married to Glen William Taylor (Billy) on May 11, 1949 in Burnet, Texas. They were married for 68 years. She was preceded in death by her parents, one son, Glen Oliver Taylor, and one brother, Othel Alexander.
Survivors include one son, Alton Ray Taylor and wife Diana, granddaughters Stormy Fluitt (husband Trevan), Kelley De La Rosa (husband Carlos), and Brittanie Buckley (husband Zachary); and five great-grandchildren: Colton Kimball, Marina Fluitt, Connor Fluitt, Samantha Buckley, and Emberly Buckley.
Maurine started school in Dale, Texas where she played in the band. Later she transferred to and graduated from Lockhart High School where she continued playing in the band and was voted band sweetheart. She worked in a number of jobs including banks in Mineral Wells, Texas, the County Tax Office in Palo Pinto County, County Tax office in Lockhart, Texas, the City of Hondo and the Hondo National Bank.
Maurine loved cooking, gardening, fishing on the coast, skiing on the Texas lakes, traveling, and being with her family during the holidays. Traveling with her husband Billy was also a favorite hobby. They enjoyed good times in their travel trailer as they traveled throughout the United States and Canada.
Another highlight of her life were yearly trips to Colorado hunting with her husband. Maurine didn't hunt, but did the cooking. She enjoyed watching wildlife and ranchers going about their day.
A memorial was held at McCurdy Funeral Home in Lockhart on Sunday, January 14, 2018 at 2 pm.
Arrangements under the care and guidance of McCurdy Funeral Home, 105 E. Pecan, Lockhart, Texas 78644.
To view and sign the guestbook, visit www.post-register.com/obituaries/maurine-taylor.