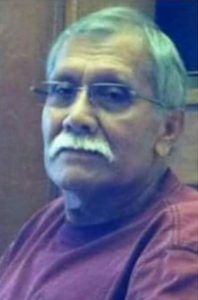 Frank R. Castillo of Lockhart passed away surrounded by his family January 11, 2017 at the age of 72.
He was born in Maxwell, TX to Panfila and Telesforo Castillo.
Frank is survived by his wife of 51 years, Janie Castillo; his children: Johnny David Castillo, Esperanza Castilleja, Gloria Garcia, Pam Tristan, Denise Castillo and Darlene Castillo; his brothers, Eusebio Castillo and Brijado Castillo; sister, Dominga Valdez; 8 grandchildren and 19 great grandchildren.
The recitation of the Holy Rosary was at McCurdy Funeral Home on Sunday, January 14th at 7 pm.
A Mass was held at 10 am on Monday, January 15th at St. Mary's Catholic Church.
Arrangements under the care and guidance of McCurdy Funeral Home, 105 E. Pecan, Lockhart, Texas 78644.
To view and sign the guestbook, visit www.post-register.com/obituaries/frank-castillo.