Local races headed for runoff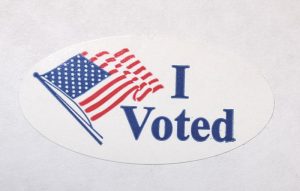 By Miles Smith
LPR Editor
The Republican nominee for two Caldwell County races will likely be decided in a runoff election on May 22 according to unofficial 2018 Primary Election results.
No candidate in either the Republican race for county judge or Pct. 1 county commissioner secured a majority of their party's vote in Tuesday night's primary with 96.77 percent of precincts counted.
In the county judge GOP primary, former Caldwell County Commissioner Hoppy Haden led when unofficial grand totals were released early Wednesday morning with 1,130 votes (49.65 percent). Incumbent Ken Schawe trailed Haden with 847 votes (37.21 percent). Rounding out the race were Johnny Lee Spriggs with 199 votes (8.74 percent) and Deward Cummings with 100 votes (4.39 percent).
If the nomination should come down to a runoff between Haden and Schawe, the winner will face former Caldwell County Commissioner Alfredo Munoz, who secured 57.88 of the Democratic vote against Anna Prusaitis Ybarra, defeating her 962-700.
A runoff to decide the Pct. 1 commissioner nomination also seems likely. Terry Wright, who was appointed to the seat left vacant by Haden when he stepped down to challenge for County Judge, managed 297 votes, or 35.61 percent. B.J. Westmoreland was four votes behind at 293 (35.13 percent), Lucy Knight finished with 206 (24.70 percent) and Chayo Rosario Rodriguez finished with 38 votes (4.56 percent).
Ida Reyna-Magallanez won the Democratic nomination, taking 357 votes (60.92 percent) against Thom Hanson, who secured 229.
In the Republican primary for county commissioner, Pct. 2, Barbara Shelton secured 358 votes (50.35 percent) to Fred Bucholtz's 353.
The winner will face incumbent Eddie Moses, who ran unopposed in the Democratic primary.
In the county's only other contested local race in the Republican Primary, Ben E. Brady defeated Lisa Shell Allan 184-146, good enough for 55.76 percent of the vote, giving him the party's nomination for Justice of the Peace Pct. 3. Brady will face Democrat Anita Deleon, who ran unopposed in her primary.
In the county court at law judge race, Barbara Molina beat Reagan "Trey" Hicks 1,205-521, good enough for 69.83 percent of the vote, according to unofficial election night totals, securing the Democratic nomination for her. The Republicans did not field a candidate in that race.
Sandy Riojas got 851 of the Democratic votes for district clerk, or 52.5 percent, giving her the win over Amanda Mayers, who earned 770 votes. The Republicans did not field a candidate in that race.
Runoff elections will also take place in some federal and state races that affect Caldwell County.
For the Republican primary for U.S. Representative, District 27, Bech Bruun amassed 36.09 percent of the vote, putting him in a runoff with Michael Cloud (33.86). Christopher K. Mapp finished in third with 12.07 percent of the vote, although in Caldwell County he finished just four percentage points behind Bruun.
The Democratic nominee in thar race was also undecided when unofficial totals were released. Raul (Roy ) Barrera failed to secure the majority of the vote for his party's nomination, earning 41.21 percent. He will likely face Eric Holguin, who finished second with 23 percent, in a runoff.
A runoff will also take place for the Democratic nomination for governor to challenge Greg Abbott, who decisively won the GOP nomination. Andrew White (27.89 percent) will face Lupe Valdez (42.89 percent).