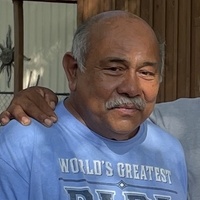 Manuel Torres, beloved husband, father, grandfather, and automobile enthusiast, passed away on April 27, 2023, at the age of 72. Born on May 23, 1950, in Lockhart, Texas, to Isidro and Victoria Torres, he was known for his love for his four sons.
Mr. Torres was passionate about all types of automobiles and enjoyed working on them. He was skilled in repairing and restoring cars, and his love for the craft was evident in the way he cared for his own vehicles. In addition, he had a fondness for playing Scratch offs.
His love for his family was always paramount, and he cherished every moment he spent with them.
Mr. Torres is survived by his wife, Diana Torres, his four sons, Victor Douglas Torres, Juan Manuel Torres, Jr., Michael Anthony Torres, and James Alvin Torres, his brothers Isisdro Torres, Jr., and Carlos Torres, his sister Lucy Carrizales, seven grandchildren, and three great-grandchildren.
A visitation for Mr. Torres will be held at the DeLeon Funeral Home Chapel from noon to 2:00 p.m. on Sunday, April 30, 2023. A celebration of his life will be held at the Lions Club on Sunday, May 21, 2023, from 2:00 to 6:00 p.m. He will be deeply missed by all who knew him.