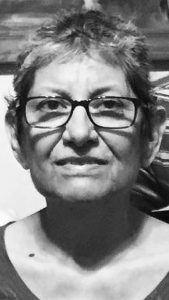 Nancy Recio Tamayo, 66, of Lockhart, Texas passed away on April 19, 2018. She was born to Rogelio P. and Susie R. Recio, on July 18, 1951 in Lockhart, Texas.
She was an active member of the First Lockhart Baptist Church and retired from the City of Lockhart.
She was preceded in death by her parents; her daughter, Rosie and a host of family members. She is survived by her husband, Leonard Tamayo; two sons, Jago Tamayo and Barak Tamayo; seven sisters, Olga Trelles, Sylvia Recio, Gina Franks, Josie Acosta, Norma Recio, Martha Recio and Cynthia Tamayo; and six grandchildren.
Family received friends from 5 pm to 7 pm, Sunday, April 22, 2018 at McCurdy Funeral Home. Funeral services were held at 10 am, Monday, April 23, 2018 at the First Lockhart Baptist Church. Interment to follow at San Pablo Cemetery.
Arrangements under the care and guidance of McCurdy Funeral Home, 105 E. Pecan, Lockhart, Texas 78644. Obituary and guestbook online at www.mccurdyfuneralhome.com
To view and sign the guestbook, visit www.post-register.com/obituaries/Nancy-Tamayo.