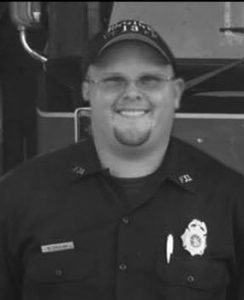 Nick Zoulek, 34, of Lockhart, Texas, passed away on August 31, 2018.
Visitation will be Thursday September 6, 2018 at Eeds Funeral Home at 408 South Main Street in Lockhart, Texas from 4pm to 6pm. Following the visitation will be a procession lead by Chisholm Trail Fire Department fire truck leaving Lockhart, passing by the Chisholm Trail Fire House in Lytton Springs, and will end at the Mineral Springs Baptist Church is Lockhart.
Memorial services will be held at Mineral Springs Baptist Church beginning around 7pm officiated by Kyle Bishop with a reception to follow. If interested in bringing food please contact the church. In lieu of flowers, donations can be made to the family through the gofundme that is set up in Nick Zouleks name.
Nick Zoulek was born at O'bleness Memorial Hospital in Athens, Ohio on July 29, 1984. He went to school at Alexander in Albany, Ohio. He married Melissa Zoulek on January 22, 2009 in Albany, Ohio. He worked at Walmart in different capacities over the last 15 years in both Ohio and Texas. He was the assistant cubmaster of Pack 109 in Lockhart and volunteered to coach basketball through community education and was a watchdog at Bluebonnet Elementary, where his children attend. He also was a volunteer firefighter with Chisholm Trail Volunteer Fire Department and will be truly missed.
He was preceded in death by his maternal grandparents; Chuck and Bonnie LaHugh. He is survived by his wife of 10 years, Melissa Zoulek; children, Noah Zoulek (8 years old) and Alexis Zoulek (5 years old); his mother, Cindy Zoulek; father Mark Zoulek and stepmother Debbie Zoulek; sister, Sara Zoulek; brother, Derek (Peewee) Gentzel; father and mother-in-law, David and Connie Nevil; sister-in-law, Tammy Nevil and Autumn Wallace; brother-in-law, Scott Nevil; paternal grandparents, Richard and Pauline Zoulek; special friends and family include Heath Waldeck, Andrew Waldeck, Nate Nelson and Andrew Whited, as well as numerous aunts, uncles and cousins.
The family of Nick Zoulek wishes to extend their sincere thanks to Chisholm Trail Volunteer Fire Department, Pack 109, Lockhart ISD, and the wonderful people of Lockhart who have pulled together to make them feel truly loved.