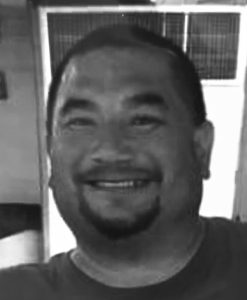 Funeral services were held Wednesday morning at 10 am at Funeraria Del Angel Trevino Funeral Home in San Antonio, Texas
Johnny O. Zapata of Buda, Texas passed away on August 27 at Christus Santa Rosa Hospital in San Antonio, Texas.
He was the son of Mr. Tiburcio and Mrs. Tanis Oballe Zapata of Del Valle, Texas. Johnny was born and raised in Lockhart, Texas. He graduated with the class of 1984 from Lockhart High School, where he played the sport of football that he loved and enjoyed so much. This is where he gained his nickname of "Psycho" from playing the sport of football.
Johnny worked for the IRS for 27 years until his illness took over.
He is survived by his wife Cathy and his four children; Amanda, Victoria, John Gabriel and Antwan. His siblings: (Sisters) Julie Limas and husband Angel, Lockhart, TX, Irene Zapata-Lopez from Del Valle, Texas (Brothers) Joe O. Zapata and wife Trish from Ohio; Peter Zapata and wife Diane from Lockhart, Texas; Jesse Zapata and wife Jennifer from Del Valle, Texas; Michael Zapata and good friend Nona, San Antonio, Texas; and numerous nieces and nephews. He was laid to rest at First Memorial Burial Park Von Ormy, Texas.
Johnny was a great husband, dad, son, brother and uncle.
He was a kind hearted person with a heart of gold! Johnny will be greatly missed and will live forever in our hearts.