Reveile Ranch offers new twist on area history
By LPR Staff
Editor/POST-REGISTER
Born and raised in rodeo, Gary, Glenn and Kim Reveile are no strangers to fast horses and flying bulls. One thing they noticed, though, when the family purchased just over 103 acres in Caldwell County, was that, despite it's deep roots in cowboy culture, Lockhart just wasn't very rodeo-friendly.
"It's something that gets into your blood," Kim Reveile said. "Rodeo just gets into you, and you can try to walk away from it, but you never really can."
In fact, as she maneuvered her Ford F-350 over the rugged property her family calls home, the petite and perky former barrel racer said she tried to leave rodeo.
"For several years, I was away from rodeo," she said. "But you just can't stay away."
Unfortunately for Kim, as well as for her daughter, Caitlyn, herself and up-and-coming barrel racer, while Caldwell County provided plenty of room to work their herd of 14 horses and one bucking bull, there was not much opportunity to practice the sport they love close to home.
Until Kim's father Jesse, himself a former roper and rider who once presided over the famed Travis County Sheriff's Posse, came up with an idea – and helped his children find the funds to make the dream come true.
That dream is the Reveile Ranch.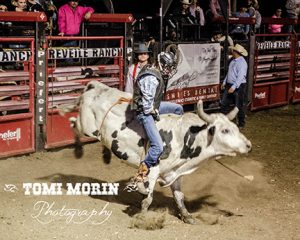 While the metal building offset from FM 20 West (State Park Road) doesn't look like much from afar, it offers under its sprawling roof something Caldwell County cowboys have clamored for, for years.
Six bucking bull chutes, soft dirt, barrels, and a full sized rodeo arena, in fact, are hidden from Texas's blistering sun under the metal panels of the 31,900-square-foot roof.
"This is all Dad's fault," Reveile said fondly to her now 80-year-old father, who has traded his horse for a Cadillac and his spurs for a sharp tongue. "If it weren't for him, none of this would be here."
The first venue of its kind since the Schneider arena near Lockhart State Park closed in the 1990s, Reveile Ranch has, since its opening in June 2014, hosted a variety of events, including several "bullriding bashes" hosted by the Backyard Bullriders.
"We have the equipment to do any kind of full-scale rodeo," she said. "And while we do have to charge for some events, we also want to be a good neighbor to the community. That's why we will never charge for any event that's raising funds for kids, or anyone that wants to do something out here to help veterans."
In October, the Ranch hosted a circus. In January, it was a one-day bullriding event, with more than 100 riders on hand.
At the end of February, the Ranch will spring to life once again, as Caitlyn celebrates her 15th birthday the only way she knows how.
"Of course I wanted to have a bash for my birthday," she said. "I love the cowboys, and I love rodeo and what else would I want to do?"
Kicking off at 2 p.m. on Sunday, Feb. 28, Caitlyn's Birthday Bull Bash promises to draw cowboys from across Texas, and many from across the nation, for what is being billed as a "rider friendly bull team event."
Not only will the event be rider-friendly, Reveile promises the event will also be family friendly.
"We want the kids to be able to come out here and get a taste of it," she said. "We do the mutton busting and we have the sandy area for the kids to just get out and get dirty."
Lamenting that rodeo families are becoming a dying breed, Reveile said she, her brothers and her father chose to open their arena to the public in hopes of bringing rodeo to the next generation.
"Some of the things that we want to do include an animal-free rodeo for the little ones, where they can just run barrels or posts on a stick horse, and we have a small mechanical bull that's the perfect size for kids," she said.
Additionally, she invites the rodeo community to visit the Ranch to run practices, and hopes in the future to organize a series of play days.
"We started for the rodeo arena, but we have enough space here we can do just about anything," she said. "We had the circus out here, and we're about to have our first wedding."
Reveile Ranch also offers an indoor concession stand with seating, pool tables and ample dance floor space. For the first night of Caitlyn's Birthday Bash, the indoor venue will be host to a dance and other events. Concessions, including burgers and other food items, will be available for purchase.
"Of course, the cowboys drink beer and such, but we don't allow anyone to get wild or out of control here, and they really don't want to," she said. "The whole thing is about family, a family environment, and just giving rodeo families a safe place to do what they do."
For more information on Reveile Ranch, visit their Facebook site (Reveile Ranch Rodeo Arena) or call (512) 461-3043.
All images provided courtesy of Tomi Morin Photography