Sandra Pearl Smith Toungate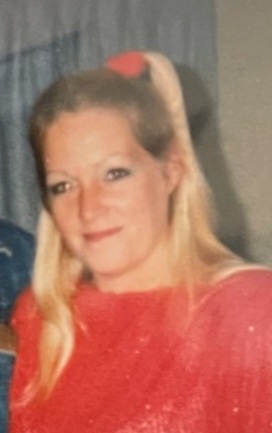 Sandra Pearl Smith Toungate, age 63, passed away peacefully early Monday morning, April 24, 2023, at her home in Luling surrounded by her loving family. Sandra is the daughter of Shirley Ann Kelso and her stepfather the late Edgar Lee Kelso of Luling, and the late Cecil B. Smith of Pleasanton. She is the granddaughter of the late Mae Bell and the late Curtis Johnson and stepmother Ann Johnson all of Luling, the late John D. Smith and Hester McMickles Smith Heinrick of Gonzales, and step-grandparents the late Ben and Mattie Kelso of Thompsonville and the niece of Ethel Halliburton.
Sandra was born on October 29, 1959 in the old Luling Hospital and attended school in the Luling Independent School District. She was a Christian woman who loved God with all her heart and prayed daily for others. She was an amazing person, wife, mother, Nana, daughter, sister, aunt, and friend and was loved so dearly. She always had a smile and a word of encouragement for everyone she met.
She took great care of her family and they were always her highest priority. She was a wonderful cook and an incredible gardener who loved her flowers, trees, plants and rock gardens. She was a talented seamstress and especially with making western shirts with snaps that looked store bought. She was also talented with embroidery and beaded jewelry. Sandra wrote beautiful poetry and even had two of her poems published.
She is survived by her husband Dennis Toungate of Luling, her three children: Brandie Mae Crober and husband Thomas, Jesse Lee Bolding and wife Amberlyn, and Paislie Pearl Bolding all of Luling; her six grandchildren: Andrew Wyatt Crober, Seth Garret Crober, Katie Mae Crober, Tyler Pastrano, and Hunter Bolding, her mother Shirley Ann Kelso of Luling, her brother John D. Smith and wife Gayla of LaGrange, her sister Mary Ann Poole of Luling, her aunt Ethel Halliburton of Luling, nieces, nephews, and cousins.
She was preceded in death by her grandmother Mae Bell of Luling, her brother Cecil Curtis Smith of Luling, and her granddaughter Serenity Lynn Bolding (daughter of Jesse and Amberlyn Bolding).
Visitation and viewing will be held at Maranatha Christian Fellowship on Monday, May 1, 2023 from 5 pm to 8 pm and the service the following day, May 2, 2023 at 2pm with interment following at the Harwood Cemetery in Harwood, Tx. Pallbearers are: Jesse Lee Bolding, Curtis Lee Smith, Andrew Crober, Seth Crober, Tyler Postrano, and Dillon Poole. Honorary pallbearers are: Thomas Crober, Hunter Lee Bolding, Aidan Freeman, Connor Davis, and Blaize Smith.
All family and friends are invited to attend.
Arrangements are under the direction of Thomason Funeral Home, 2220 S Colorado St, Lockhart, TX 78644. For more information and to sign the online registry, please visit thomasonfuneralhome.com.