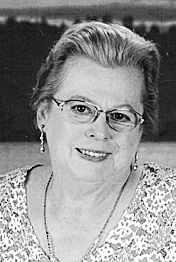 Tresona Nan Patton Carnagey was born on September 23, 1939, in Lockhart, TX, the first of three children born to John and Theresa Patton. She grew up in Lockhart, sometimes helping her father both at his carpentry shop and at political events, meeting notable statesmen such as Lyndon Johnson and Sam Rayburn. She graduated from Lockhart High School in 1958. Nan then enrolled at the University of Texas at Austin, where she met her future husband, Glenn Allen Carnagey, Sr. They were married on November 12, 1959 in Lampasas, TX.
While Glenn served in the military, Nan had her first son, Glenn Allen, Jr., in 1961 in Maryland and her second son, Walter John, in 1963 in New Mexico. In 1964, the family moved to Dallas where Glenn entered seminary. The family moved to Muskogee, OK in 1968 and Nan started substitute teaching, beginning her long teaching career primarily in mathematics. Overcoming her remote location, she was able to complete her degree at the University of Texas at Austin in 1971, obtaining a BA with a double major in Mathematics and History. In 1977, Nan received her Teaching Certificate in Secondary Mathematics from Oral Roberts University.
From 1977 to 1992, she taught mathematics in Tulsa, OK, at Carver MS, Washington HS and Tulsa Junior College. From 1993-1996, she taught at Folwell MS in Minneapolis, MN. Nan and Glenn then moved to Austin, Texas to be closer to family, where she taught at LBJ HS (1996-1997) and Connally HS (1997-2005).
Beyond teaching, she was also involved with Glenn's pastorates and church fellowship, and assisted in the establishment of Tulsa Seminary of Biblical Languages. She relished telling stories from the times that she would accompany Glenn to Israel and Jordan for archeological digs. She enjoyed music and played the piano and clarinet.
Nan passed quietly from this world at the age of 78 into the presence of Christ on the morning of December 21, 2017 at Hearthstone Health Center in Round Rock, TX. Left to mourn her passing are her son Glenn Carnagey, Jr. and wife Cindy, with children, Sarah, Adam, and Christina; son John Carnagey and wife Kim, with children Walter, Rebecca, Alan, and Tresona; her great-grandchildren Aiden, Collin, Abigail, Jade, Ella, Isla, Liam and Leo; sister Penny Alexander and husband Tom; sister Johnnie Sue Schwerdtfeger and husband Jim; and sister-in-law Cynthia Carnagey. She was pre-deceased by her husband Glenn Carnagey, Sr.
A memorial service will be held Thursday, December 28th, at Austin Bible Church, 8405 Cross Park Drive, Austin, TX 78754.
To view and sign the guestbook, visit www.post-register.com/obituaries/tresona-carnagey.