Veleria Mae Graef Hohertz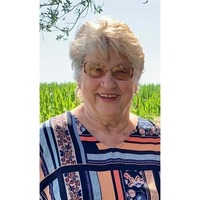 Veleria Mae Graef Hohertz of Maxwell, loving Mother and Granny, was called home to Jesus at the age of 80 on March 14th, 2023.
Veleria was born October 5,1942 in Creedmoor, Texas to Kolmar and Melda Schaefer Graef. She was one of five children. She married Bryant "Bunton" Larry Hohertz on January 26, 1963. She was a loving and devoted wife for 49 years upon his passing in June of 2012. Veleria is preceded in death by her parents and her siblings: Vondelle Martin, Altha Ann Schaarschmidt and husband Marvin, Natalie Burklund and husband Bill and a brother-in-law Wallace Hohertz.
She is survived by her four children: son Ronald Hohertz and wife Cheryl of Lockhart; daughter Rhonda and husband Will Covarrubias of Geronimo; son Clay Hohertz and wife Becky of Maxwell; son Cole Hohertz of Maxwell. Grandchildren: Meghan Hohertz and husband Desmond Young of Seattle; Jake Hohertz of Maxwell; Taylor Hohertz and wife Kim of Temple; Josh Hohertz and wife Tabitha of Briarcliff; Mikayla and husband Will Herron of Horseshoe Bay; Kaleb and Justyne Covarrubias of Geronimo. Great Grandchildren: Reese Kay Hohertz of Briarcliff; Henry Cole Hohertz of Maxwell. Brother: Dr. Arlon Graef and wife Janet of Taylor. Sister-in-law, Pat Hohertz of Austin; numerous nieces and nephews. Granny will forever be in our hearts.
Family received friends at McCurdy Funeral Home on Friday, March 17th, 2023, from 6:30 p.m. to 8:30 p.m. Funeral services were held at 10:00 a.m. on Saturday, March 18th, 2023 at Salem Lutheran Church in Austin, with the Rev. Anamae Storbeck officiating. A luncheon will be provided following the service with the funeral procession departing the church at 1:00 p.m. for a graveside service at Live Oak Cemetery in Manchaca. Memorial contributions may be made to Salem Lutheran Church, 9322 FM 812, Austin, TX 78719 or a charity of your choice. Arrangements under the care and guidance of McCurdy Funeral Home, 105 E. Pecan, Lockhart, Texas 78644, 512-398-4791. Obituary and guestbook online at www.mccurdyfuneralhome.com