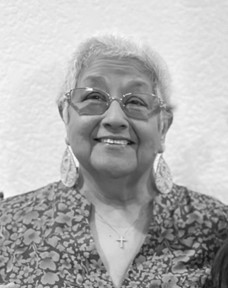 Dora Contreras, 70, of Lockhart, Texas, passed away on Friday, March 17th, 2023, after a lengthy battle with cancer. She was surrounded by her children at the time of her passing.
Dora was loved by all those close to her. She had a charming smile and a sweet personality. She was proud to be born and raised in Lockhart. She worked hard her entire life to provide for her family and was a very giving person. Being outdoors tending to her plants and flowers, mowing the lawn, and watching the sunrise with her husband were things she truly liked to do. You could easily find her on a sunny day riding her tractor while listening to the radio. What she cherished most was her family. She dedicated her life to being a supporting wife, a wonderful mother, and an exceptional grandma.
She is preceded in death by her husband Albert Contreras, mother Maria Hernandez, and father Ramon Hernandez. She is survived by her two children, son, Gabriel (Jessica) Contreras, and daughter, Hillary (Hal) Purka; four grandchildren, Gabriel N. Contreras, Maria Contreras, Sophia Purka, and Jessi (Justin) Gillit; great-grandchildren, Oliver Gillit, and Walker Gillit.
She will be laid to rest with her husband at Ft. Sam Houston National Cemetery in San Antonio, Texas. Please refer to the McCurdy Funeral Home website regarding visitation, rosary, and church services.