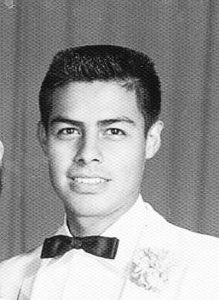 Former Lockhart, TX resident Anacleto F. Rodriguez Jr., age 78 passed away on December 26, 2017. He is proceeded in death by his father Anacleto Rodriguez Sr. and mother Maria Rodriguez and brothers Jerry and Havier Rodriguez.
Born on February 11, 1939 in Lockhart, TX, Anacleto F. Rodriguez Jr. is survived by his loving wife of 61 years Mary V. Rodriguez, son Christopher John Rodriguez Sr., daughter JoAnn Rodriguez, grandchildren Erica Rodriguez, Christopher Rodriguez, Brandon Hernandez, David Hernandez, Briana Hernandez and Naomi Hernandez and three great-grandkids Jeremy Duran, Caison Rodriguez and Alexander Hernandez.
Anacleto was a devoted husband, father and loving grandpa. He was a hard worker and great provider for his family. He was an organizer, always neat and enjoyed watching westerns, golf and football. Though he never left Lockhart, his family fulfilled his life in more ways than one. His kind heart and sense of humor will be greatly missed.
The Rodriguez family will receive friends from 5 – 9pm with a Rosary at 7 pm on Friday, December 29, 2017. Funeral service will also be at McCurdy Funeral Home on Saturday, December 30 beginning at 1 pm with interment to follow at St Mary's Cemetery.
Arrangements under the care and guidance of McCurdy Funeral Home, 105 E. Pecan, Lockhart, Texas. To view and sign the guestbook, visit www.post-register.com/obituaries/anacleto-rodriguez.