Earthel C. "Bud" Henderson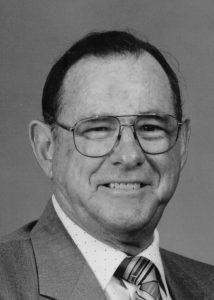 Earthel C. "Bud" Henderson passed away on December 12th at the PAM Specialty Hospital of Luling, surrounded by family and friends. He was born April 10, 1929 in Hargett Kentucky. Bud married Phyllis Lee Snape on June 5, 1954 who predeceased him in death after 50 years of marriage. Upon completing his apprenticeship, Bud was employed as a Mechanical Engineer with IBM in Lexington, Kentucky. He and his family moved to Round Rock, Texas in 1969 to assist in opening the IBM plant in Austin. After 25 years with IBM, Bud retired and moved with Phyllis to Dale where he enjoyed working his farm and becoming involved in the community.
Bud is survived by his son, Vaughan and his wife Barbara of Seguin, his daughter Pamela Thomson of Markham, Virginia, seven grandchildren, Megan, Nathan, Bridget, Emma, Hank, Matthew and Jordan, and two great-grandchildren, Kase and Hadley, and his long time companion, Jean Williams. Bud, and his wonderful fondness for jokes, will be greatly missed by his family and friends.
A memorial service is being planned for early next year.
To view and sign the guestbook, visit www.post-register.com/obituaries/earthel-henderson.