Dorothy Nell Barth Schulle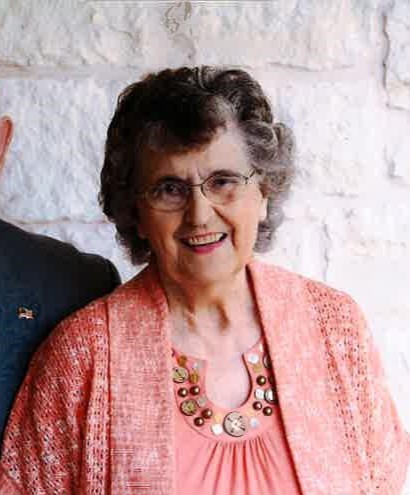 Dorothy Nell Barth Schulle was born Thanksgiving Day, November 30, 1933, to Nora Edna Band Barth and Rudolph Robert Barth. She graduated from Lockhart High School in 1952, where she was in the band (1948 – 1952) and played the clarinet, a band majorette (1951 – 1952), Parliamentarian (1950- 1951) and President (1951 – 1952) of the Future Teachers of America (FTA), Band Council (1951 – 1952), Lions Roar Assistant Editor (1951- 1952), Future Homemakers of America (1949 – 1951), Junior and Senior plays, The Quill and Scroll for outstanding journalism (1952), and the Danforth Foundation Award in 1952 for the most outstanding senior girl for scholastic ability, leadership, character, and religious training. She maintained an A average during her high school years.
Prior to her marriage, Dorothy was employed as a secretary to the business manager at Brackenridge Hospital in Austin. She married Frank Schulle Jr., her high school sweetheart, on September 6, 1953, at the Evangelical and Reformed Church (St. Paul's) in Lockhart, Texas. Frank joined the Air Force and was stationed at James Connally Air Force Base in Waco. Dorothy followed him and worked in the business office of Providence Hospital (Ascencion Providence) in Waco. Upon Frank's honorable discharge, the couple moved to San Marcos so Frank could go to college. Dorothy was employed at Tims Insurance Agency in San Marcos. Their son, Russel Andrew Schulle (Andy), was born July 23, 1962. Upon Frank's graduation from college, the family moved to Lockhart.
Dorothy began her career in banking in 1969 with Lockhart Savings & Loan Association, which became Great West Savings Bank. She also worked at Franklin Federal Savings Bank, the American National Bank, and Sage Bank where she retired in 2002 with 33 years in the banking business.
In 1996, Dorothy and Frank were awarded the Spirit Award by the Lockhart Chamber of Commerce for their work in the community and in their church. In 2002, Dorothy was named Lockhart's Most Worthy Citizen. Dorothy was well known and greatly loved in our community where she provided volunteer support for numerous organizations such as Grace Lutheran Church, holding several offices including President over the years. She worked with Meals on Wheels, The Salvation Army Red Kettle, Relay for Life which she was a cancer survivor, the library restoration project, the Sesquicentennial Committee, and the Irving Club. She co-chaired the Chisolm Trail Roundup Parade for more than ten years (1987 – 1999).
After retiring, Frank and Dorothy liked to travel and made several trips to Europe, Canada, Nova Scotia, and various states. When at home, Dorothy liked to put together parties and celebrate anniversaries. Frank and Dorothy loved Grace Lutheran Church and its members as family. When Frank's health began to decline in 2014, his doctor advised him to go into a nursing home. Not to be away from him, she elected to go with him. They became residents of Chisolm Trail Nursing Home in Lockhart and after Frank's death in 2015, and 62 years of marriage, she decided to stay at Chisolm Trail.
She passed on Sunday, October 8, 2023, to be with her Lord and Savior. She will be buried in Lockhart City Park Cemetery next to her son, husband, mother, father, two sisters, Elsie Barth Pfeiffer and Lillian Copeland, and her little brother, Robert (who died as an infant in 1924).
Survivors are her nephew and his wife (David and Cassie Reed of Austin) who were her caregivers and according to Dorothy, her crutches, and their daughter Meredith. Also survived by her sister-in-law Alma Schulle of Lockhart, Nephew James Harlon Reed of McMahan, niece Cathy Lynn of Krum and her son Michael, and many, many cousins, and good friends. Special thanks to Dr. Charles Laurence, Grace Lutheran Church for the love shown to them all these years, the many neighbors on Nixon Street in Lockhart, to the staff at Chisolm Trail Nursing Home for the care and love shown to her for the last 8 years and 10 months, and Compassus Hospice Austin for their care over the last few years.
Rest in peace our good and faithful friend. A viewing will be held on Thursday, October 12, 2023, at 2PM, at Grace Lutheran Church in Lockhart with a service starting at 3PM. Burial will follow at Lockhart City Park Cemetery at their Barth Family plot. Memorials may be sent in her name to Grace Lutheran School or Grace Lutheran Church, 828 Fir Lane, Lockhart, Texas 78644 or to your favorite charity.