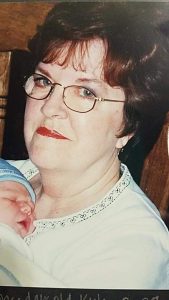 Gail Livengood Robinson left the loving arms of her family to join with her parents and her sisters in the presence of her Heavenly Father on April 20, 2018.  Gail was born and raised in Lockhart, a descendant of the town's early settlers.  She was one of five daughters born to James E. and Marie Swearingen Livengood.  Gail attended and graduated from Lockhart High School after which she attended the University of Texas in Austin where she met her husband, Harold Thomas Robinson. They were married on July 15, 1961.
Gail was a kindergarten and third grade teacher for many years, but her favorite occupation was that of mother to her 3 girls, and grandmother, aka "Gamma", to her 6 grandchildren.  She was also a huge animal lover, and never met a piece of chocolate that she didn't like. Though the majority of her years were lived in Texas, Gail and her husband, Tom, also spent time in Florida, Hawaii, and most recently Las Vegas, Nevada, before returning to her home state.  Spending time with her family was her most favorite pastime.
Gail was preceded in death by her parents James and Marie, and her sisters Edith Marie Satterfield, Margaret Beaver, Joyce Bock, and Rebecca Gassenmayer.  She is survived by her husband Tom, as well as her daughters Amy Toney and husband Dale Toney; Suzanne Reyes, husband Ron Reyes; and Margge Eslick, and her husband Mark Eslick, along with her beloved grandchildren and her two dogs Winston and Cody all of whom will miss her more than words can say.
Visitation with the family will be at McCurdy Funeral Home on Tuesday, April 24 at 11:00 am, followed by funeral services at 1:00 pm with a graveside service immediately following at Lockhart's Memorial Garden.  Serving as pall bearer are Kevin McClary, Ron Reyes, Dale Toney, Mark Eslick, Kyle Eslick, and Wade Eslick.
Memorials in honor of Gail can be made to the Bulverde Area Humane Society, P.O. Box 50, Bulverde, TX  78163.
Arrangements under the care and guidance of McCurdy Funeral Home, 105 E. Pecan, Lockhart, Texas 78644.