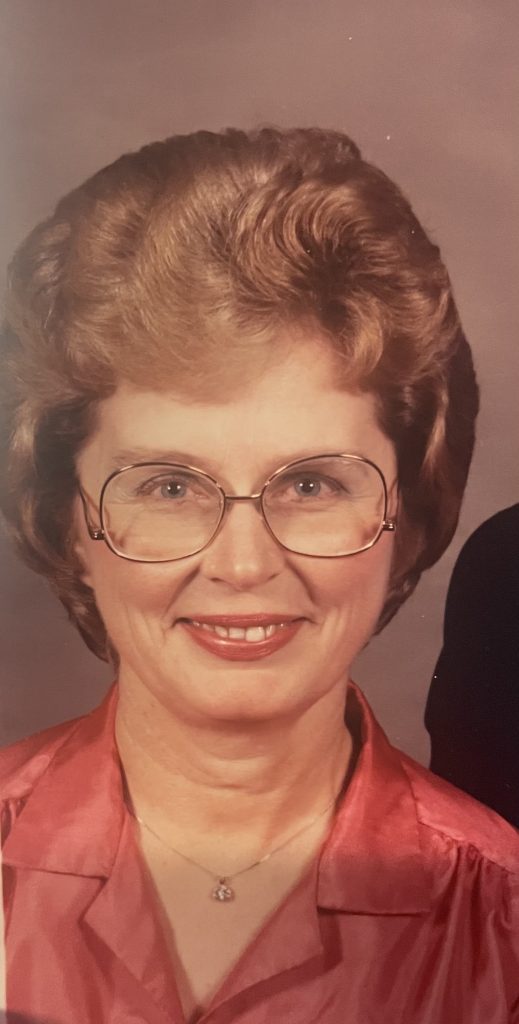 February 10, 1935 – August 6, 2023
Helen passed away on August 6, 2023 at Magnolia Living & Rehabilitation Center in Luling, Texas. She
was born February 10, 1935 to Sam and Ella Voigt in Red Rock, Texas. She married Harold Franks on
February 1, 1954 and settled on the family land in McMahan, Texas. They welcomed a son, Paul, on
November 22, 1954 and another son, Jimmy, on December 7, 1957.
Helen worked for Lockhart State Bank for over 30 years before retiring. She enjoyed spending time
outdoors and blessed her family with many handmade quilts over the years. She also enjoyed traveling to
Colorado with Harold to their cabin in the mountains.
She is preceded in death by her parents Sam and Ella Voigt along with her seven siblings – Gladys,
Walter, Charlie, Orbin, Clifton, LuElla and William and daughter-in-law, Ginger Franks. She is survived
by her husband of 69 years, Harold Franks, son Paul Franks (Sandy), son Jimmy Franks, grandchildren,
Michael Franks (Heather), Steven Franks, Matt Franks (Claudia), Jamie Burklund (Alan).
Arrangements will be handled by Thomason Funeral Home in Lockhart, Texas with visitation on
Thursday, August 10th from 5 – 7 pm and funeral service will be Friday, August 11th at 10am. Burial will
immediately follow at Jeffrey Cemetery in McMahan, Texas. Lunch will be served at McMahan Baptist
Church, 6084 FM 713 Dale, TX 78616.
The family would like to thank the staff of Magnolia Living & Rehabilitation Center in Luling for their
care of Helen over the past year.