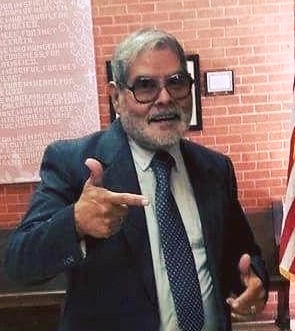 Hipolito "Polo" Ruiz, loving husband, father, and grandfather passed away on August 24, 2022, in Kyle, Texas surrounded by his family. He was 77 years old. He was born in Maxwell, Texas to the late Rosendo Ruiz and Olegaria Garcia on August 13, 1945.
He was employed by Nagel Manufacturing & Supply Co. for 25 years till 2003.
He brought joy, strength, and love to his family and friends. He enjoyed walking around his neighborhood, going to dances, and playing with his great grandchildren.
He is preceded in death by his first wife Maria Lydia Natal Ruiz, by his parents, and one sister Donaciana "Chana" Ruiz Garcia.
Polo survived by wife Maria Ruiz; his two sons, Bennie Ruiz and wife, Rosemary Hernandez Ruiz of San Marcos, Texas and Esteban Ruiz of Lockhart, Texas; one daughter, Diana Ruiz of Lockhart, Texas; one God daughter, Yolanda Reyna Vargas of Kyle, Texas; one God son David Campos of San Marcos, Texas;14 grandchildren and 13 great grandchildren; by three brothers, Nato Ruiz, San Miguel Ruiz and wife Biviana Ruiz, and Guadalupe Ruiz; two sisters Martina Vasquez, and Placida Ruiz Campos.
A visitation will begin on Tuesday, August 30, 2022, at 5 PM with a Rosary at 7Pm, both at McCurdy Funeral Home. A Mass of Christian Burial will be held on Wednesday, August 31, at 10 AM at St. Mary's Catholic Church with burial to follow at San Juan Reedville Cemetery.