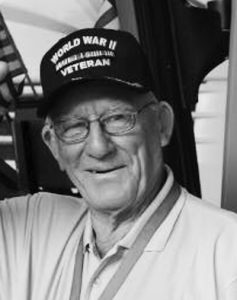 Jewel Vance McClanahan died peacefully surrounded by family at the age of 92 on Friday, December 22, 2017 in Luling, Texas.
Jewel was born November 4, 1925 in Kirtley, Texas to parents William Lewis McClanahan and Mary Jane Krenek McClanahan. He was the oldest of four children.
Jewel was raised in Muldoon, Texas and attended nearby Flatonia High School.
During 1944-1946, Jewel served in the US Army and was a decorated veteran of World War II. He fought in the Battle of the Bulge and was a captured Prisoner of War.
After the war, Jewel returned to his hometown of Muldoon, where he met his wife, Thelma with whom he celibrated 68 years of marriage. They resided in Houston, Texas and had one child, Donnie. Jewel worked as a pipe fitter at Champion Paper mill in Pasadena, Texas for 20 years and retired. He then worked at M.D. Anderson Cancer Center in Houston, Texas as a plumbing foreman for 15 years and retired for the second time. He and Thelma moved to Luling in 1983 during which time he worked for a few years at Thermon Manufacturing in San Marcos, Texas. He then decided to retire for real, spending more time with his family and enjoying his many interests. Both Jewel and Thelma have demonstrated the highest level of dedication to their son, grandchildren, great grandchildren, and now their great great grandchildren.
The McClanahan's were members of the New Beginnings Baptist Church, where they met Brother Jack, the pastor, who is dedicated to the Lord, the Bible, and all Parishioners.
Foremost, Jewel loved his family. He doted on each and every one of them letting them know they were very special indeed. He spent time with his son, coaching his baseball team and taking him on many fishing trips. Similarly, Jewel was was very involved in all of his grandkids lives and spent many days and hours with them, enriching their lives. They were the "apples of his eye".
Jewel loved the land where he and his wife Thelma built their home. They raised many vegetables, fruits, chickens and livestock, including cows, horses and donkeys. The animals he raised also became his pets. He loved animals and created relationships with the deer, rabbits and squirrels that shared his land, hand feeding many of them. Taz, his surviving "Man's Best Friend", will miss him very much. He also had several other interesting hobbies; bowling, beekeeping, woodworking, jewelry making, visiting with the church, trips to Vegas and Kickapoo and loving his family through the end of his time on earth.
Jewel also loved to travel. He and Thelma began taking family vacations when their son was young and these trips many times included extended family members; his Mother, cousins and in-laws. The travelling vacations continued with the grandkids creating wonderful memories. They purchased a motorhome and he and Thelma would travel to see his Army buddies that he had reconnected with. Of all of his travels, the highlight was in 2012 when he was selected to participate in the inaugural "Honor Flight" out of Austin, Texas. This event honored World War II veterans with a trip to Washington DC, to see the memorials and to be recognized for their sacrifice. During that trip he made a new best friend, his chaperone, Delia Duffy. Delia made his flight and tour of DC very special. She recorded the experiences of the trip complete with a book, CD and zip drive of photos. Upon returning, their friendship endured.
Jewel is survived by his wife Thelma Fleck McClanahan of Luling, TX, granddaughter Robin McClanahan of Converse,TX, two great granddaughters, Lauren N. Brown and husband Nick of Luling, TX, Kaile M. Wilson and husband Preston of Dale, TX, two great great grandchildren, Braxton Vance Kay and Preslie Mae Wilson, two sisters, Mary Grace Zigal of LaGrange, TX and Verlyne Meyer of Houston, TX, cousin Edna Kielberg of New Braunfels, TX, daughter in law Patti Derr of Converse, TX, two brother in laws, Joe Fleck and wife Elizabeth, Jack Fleck and wife Linda, both of Houston, TX and as well as numerous nieces, nephews and friends.
Jewel was preceded in death by his Parents William Lewis McClanahan and Mary Jane Krenek McClanahan, his beloved Son Donnie Vance McClanahan, Granddaughter Tesha McClanahan and Brother Billy McClanahan.
Special recognition and a deep heartfelt thank you to Patti Derr, Vickie McClanahan and Regina Dotson for all of the support and love they have given our family. A special thank you to the staff at Seton Edgar B. Davis Hospital and Hillcrest Manor Nursing Rehab Center for the attentive care they gave our loved one during this time.
We will always miss and love you Pawpaw.
A viewing and visitation will be held on Wednesday, December 27th at Eeds Funeral Home Chapel from 6 – 8 p.m.
Funeral Service will be on Thursday at 10:30 a.m. at the Eeds Funeral Home Chapel with Brother Jack Broadwater officiating. Serving as pallbearers are Chris McClanahan, Greg Fleck, Michael Fleck, Nick Brown, Preston Wilson, Joe Fleck Jr., Bobby Worsley, and Larry Fleck.
Graveside Service will be held at 1:30 p.m. at the Family Plot at Pittman Cemetery in Muldoon, Tx.
Arrangements with Eeds Funeral Home, 408 S. Main St. Lockhart TX 78644 (512) 398-2343.
To view and sign the guestbook, visit www.post-register.com/obituaries/jewel-mcclanahan.