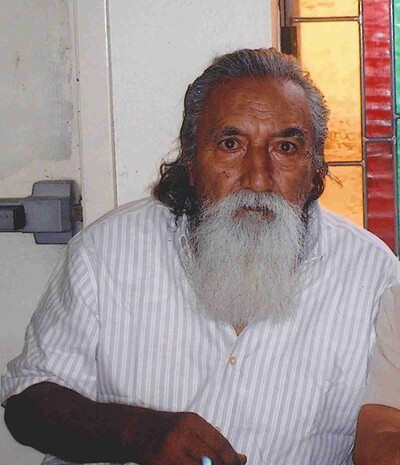 Juan Rejino Rocha Jr., 87, passed away peacefully on January 10, 2023, at home surrounded by his loving family.

Juan was born on June 16, 1935, to Juan Sr and Jesusa Rocha in San Marcos, Texas.

Juan was a devoted and loving husband, father, and grandfather. Juan met the love of his life Carmen (Martinez) many years ago. They would then wed in August of 1954, celebrating 68 years of marriage. Juan and Carmen laid down roots in Maxwell, Texas to raise their family. Juan worked diligently to provide for his family, from migrant work to construction to his own lawn maintenance service.

Juan is survived by his wife, Carmen Rocha, four children: San Juana Navarro (Wilfred), Irma DeLeon (†Freddy Sr.), Maria Teresa Miranda (†Jessie Sr.), Cristobal Rocha, 16 grandchild, 35 great grandchild, and 6 great great grandchildren, Siblings: Donato Rocha, Maria Elena Ybarra, Irene Martinez, Martha Salgado, Rosemary Agurrie, George Rocha Sr., and Elena Gray, along with many nieces and nephews.

He is preceded in death by his parents Juan Sr. and Jesusa Rocha, his daughters: Jesusa Rocha, Norma Rocha, and Martina Zapata, his grandson: Eddie DeLeon Sr., his great grandchildren: Armando Zapata IV and Angelina Zapata, Siblings: Clementina Castro, Abraham Rocha, Daria Rocha, and Lazaro Rocha Sr. and Sons-in law: Freddy DeLeon Sr. and Jessie Miranda Sr.