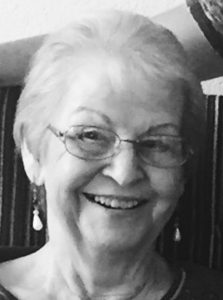 Ladean Ragland of San Marcos, Texas passed peacefully away on January 4, 2018 after a long, beautiful life.
She is preceded in death by her husband of 67 years, Dorwood Ragland and her parents A.F. and Virgia Faye McCasland.
She is survived by daughters Vicki Partin and husband, Tom of Spring Branch, Debbie Twardy and husband Garett of California, and Kimberly Powell of San Marcos; son Tim Ragland and Allen Trial of San Diego, California. Numerous grandchildren and great grandchildren.
Ladean was a member of First Baptist Church of San Marcos, Texas.
She was an active volunteer at Central Texas Medical Center for over 10 years.
Visitation was held at Pennington Funeral Home 4:00 p.m. to 6:00 p.m., on Saturday, January 6, 2018.
Funeral services were to be held at First Baptist Church San Marcos Texas on Sunday, January 7, 2018 at 3 p.m., with the Rev. Chad Chaddick officiating.
Interment was to follow at the San Marcos City Cemetery.
Memorial donations can be made to the American Cancer Society.
Arrangements by Pennington Funeral Home, 323 N. Comanche, San Marcos, Texas 78666, 512-353-4311. www.penningtonfuneralhome.com
To view and sign the guestbook, visit www.post-register.com/obituaries/ladean-ragland.