Lockhart girls go 12-0 in non-district play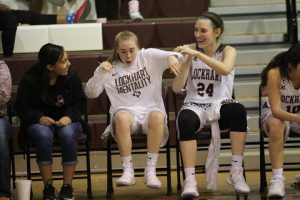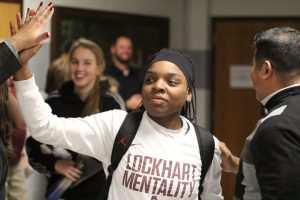 By Miles Smith
Editor/POST-REGISTER
An indecipherable chant began softly in the stands in Lockhart High School's gym Friday night as the Lockhart girls closed out non-district play with a 49-13 drubbing of Pflugerville Weiss.
But over the span of 30 seconds, it was apparent what was being said repeatedly as the muffled din grew into a deafening roar: 12-0.
Lockhart had done it. The Lady Lions had gone undefeated in district play for the first time in head coach Dennis Helms' three-year tenure, reeling off 12 straight wins and building momentum going into district play, which began Tuesday night at home against Seguin. Parents and fans waited in the gym lobby to hug and high-five the players one by one as they exited their locker room amid cheers.
Helms said he was proud of his team's growth and the program's climb since he took the reins three years ago, and said they were building the momentum that is often found when a team develops a winning attitude.
"When I first came here, they'd won two district games in five years," Helms said. "It's fun seeing the girls happy and they're building their self esteem with these wins, which are helping them build confidence. They're winning, and they're improving and getting better because they're happy."
The 49-13 home win to close out non-district play came on the heels of a hard-fought statement win over New Braunfels Canyon, which could be a harbinger of things to come this year. The Lady Lions triumphed over the Cougars by 10 points, pulling down 24 rebounds en route to their 11th victory.
"We played Canyon (last) Tuesday night," Helms said. "In the past, we might have been out of that game pretty early on, but we won it 42-32.
"We showed our superiority on the boards and played good defense. Nobody has scored much against us, and usually when you play a team like Canyon, you beat them up on the boards. That's when I really knew our team had come of age."
Helms said the scoring and tough play of starters Princess Daniels, Kara Pickle and Sidney Shaw had contributed to the 12-game surge, but said that lately, contributions were coming from players other than his big three.
"Kallie Krenz really came into her own against Canyon, Helms said of the player, who was the third highest scorer in that contest with eight points, three assists and one board. "Yasmine Mackey, Faith Herman, Marinna Sifuentes and Maribel Ramirez have also shown a lot."
Against Canyon, Shaw led the charge with 12 points. Daniels added 10 and Krenz and Pickle each had eight. Lockhart held a 32-14 lead through three quarters before Canyon surged back in the final frame to narrow the gap.
Last Friday against Weiss, the Lady Lions raced out to a 27-5 halftime lead en route to their 12th win behind Pickle's 15 points and seven rebounds. Daniels added 11 points, five assists and three rebounds, Shaw had eight points and Krenz added seven to go along with another five assists.