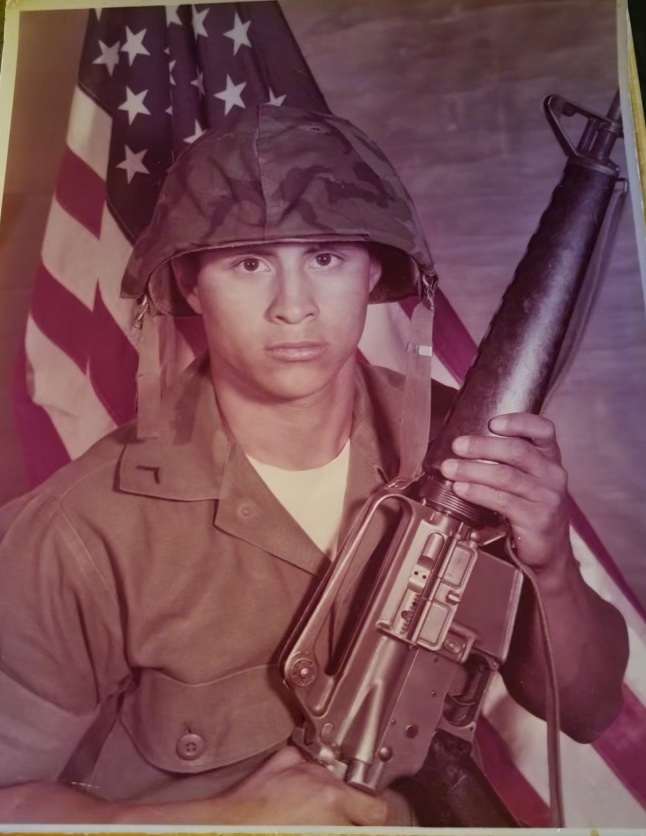 SGT. Mariano L. Moreno, 67, beloved Uncle, and Brother, was called home to out Heavenly Father, He was preceded in death by his parents, Anastacio Chito Moreno Sr. and Saturnina Moreno; his Lil Big brother, Anastacio Chito Moreno Jr.
He is survived by his sister Maria Guadalupe Castillo; sister Maria Angelita Rangel and husband Luis Rangel; sister Maria Victoria Burton; Nieces & Nephews Anastacio Chito Moreno III and wife April, Gabriel Moreno and wife Ana, Marcelina Moreno-Mendoza and husband Tony, Teresa Rangel and husband Emiliano, Denise Tovar, Felix Tovar IV and wife Raquel, Lisa Castillo, Domingo Castillo III, Leticia Moreno, Jesse Moreno and wife Olivia, Misty Moreno, Edward Mares and wife Carissa, Amoretti Mares, Cypress Mares and wife Elizabeth, Jasmine Burton, and Joshua Burton.
Mariano Moreno enlisted in the Marine Corp in the Summer of 1971 and graduated in 1972. His 1st station was in Okinawa from 1972-1973. Staff Sergeant Moreno was in the 3rd Marine Division, ¼ Battalion, C Company and was recognized as a Rifle Sharpshooter, his Handgun Marksmanship, served as Infantry Unit Leader. Mariano was awarded the National Defense Medal, Good Conduct with 1 Star Medal, M-16 Rifle Sharpshooter Badge, Pistol Expert Badge, Sea Service Deployment Ribbon, Meritorious Unit Citation, and Armed Force Expeditionary Medal.
Recitation of the Holy Rosary will be at 7:00 p.m. Tuesday, April 4, 2023 at DeLeon Funeral Home. Funeral mass will be celebrated at 12:00 noon at St. Mary's Catholic Church. Interment will follow at Ft. Sam Houston National Cemetery (1520 Harry Wurzbach Rd, San Antonio, TX 78209) at 2:30 p.m.